Pupusas are without doubt the national dish of El Salvador and the absolute must try of Salvadoran cuisine. Salvadorans jokingly call them El Salvador's pizza!
What Are Pupusas?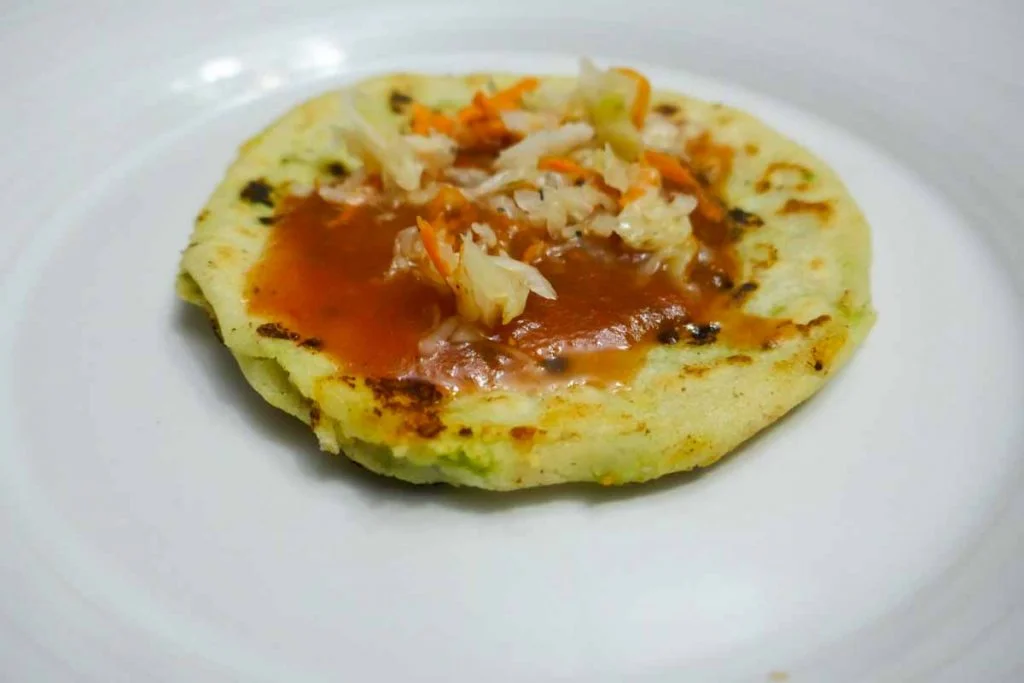 Pupusas are medium to thick, stuffed, skillet-cooked corn flour tortillas. And they really grow on you!
They and sold at street corners and dedicated restaurants called Pupuserias, as well as almost any non-branded restaurant throughout the country.
Salvadorans eat pupusas with their hands and enjoy them at any time of the day, but more regularly in the morning and at night.
Pupusas are so important to Salvadoran cuisine, that they have an official day in the calendar – the second Sunday in November is National Pupusas Day when pupusa-eating contests take place on the streets of El Salvador.
What's more, authentic Salvadoran pupusas are so popular with ex-pats and travelers that some restaurants provide a service to pack pupusas for international travel. Some folk travel back with 20+ Pupusas because the ones you make yourself just don't taste the same!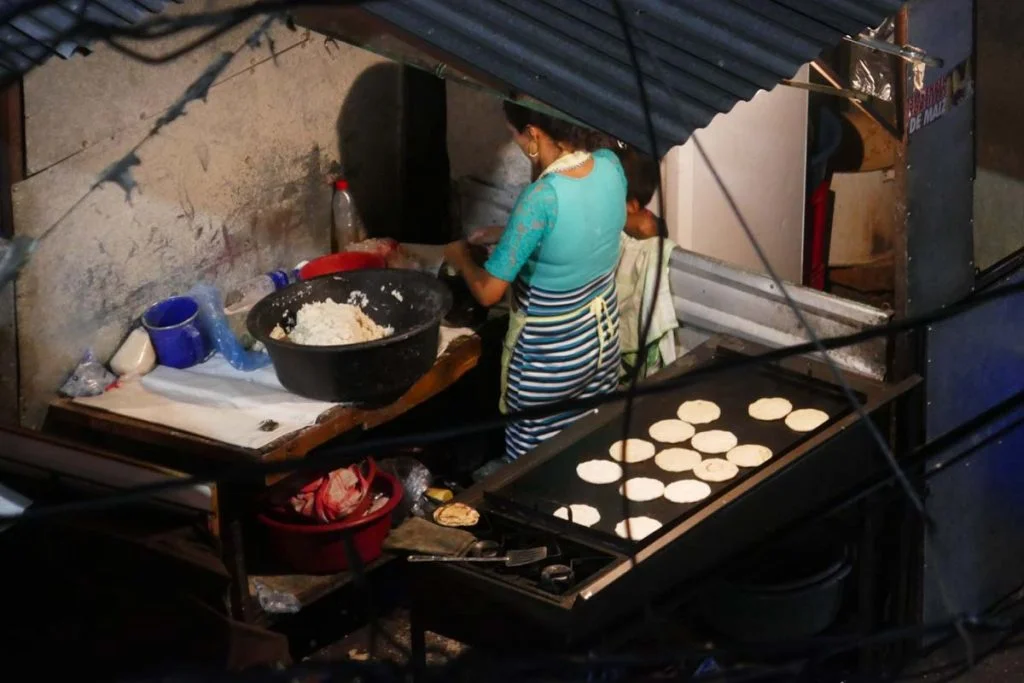 How To Recognize A Great Pupusa!
Not all pupusas are made equal! A great Pupusa is always handmade, not too thick, and not greasy.
If you go to a Pupuseria and find they're greasy, you know you can do better!
Pupusa Hotspots
While there are Pupuserias all over the place. There are enclaves where the concentration of Pupuserias is very high.
Head to Antigua Cuscatlan close to San Salvador and you will find two or three streets filled with Pupuserias.
The next hotspot is at Los Planes De Renderros by Bilbao park. There are several Pupuserias all nestled together on the street.
The final hotspot is Olocuilta near the international airport where many Pupuserias line the main road and specialize in rice flour tortillas, which have a different texture and flavor to the traditional pupusas you will find elsewhere.
Types Of Pupusa
There are many varieties of El Salvadoran Pupusas and the options for experimentation with the filling are unlimited.
However, the most popular types of Pupusa you will find in El Salvador are:
Cheese Pupusas (traditionally made with a soft Salvadoran cheese called Quesillo. Mozzarella cheese is a fair substitute but other cheeses can be experimented with, the main thing is that the cheese melts)
Cheese and Loroco
Refried beans (frijoles)
Refried beans and cheese
Shredded pork (chicharrónes – not to be confused with fried pork rind, which is known as chicharrón)
Other less popular varieties are squash, shrimp, chicken, chilli, and fish pupusas.
There are also vegetarian alternatives to the filling mostly made with garlic and local squash (ayote) or spinach, but the pupusa can also be eaten plain.
Pupusas are typically served with tomato salsa (salsa roja), Curtido, chillis, and fried plantains.
After the meal, coffee or hot chocolate is the most commonly served.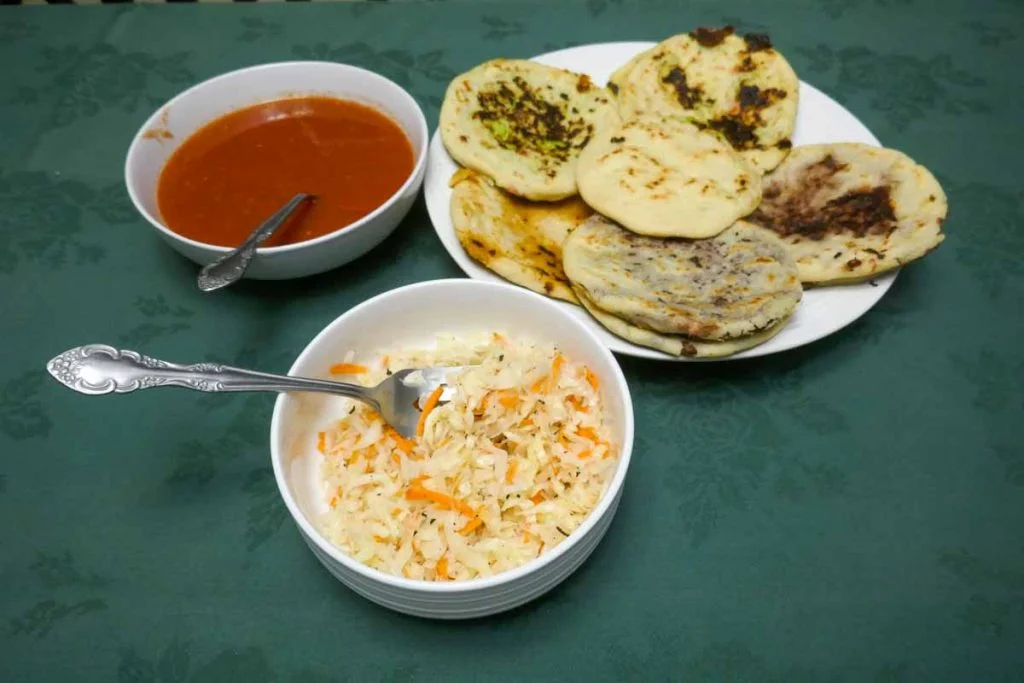 Regional Variations
Corn Flour vs Rice Flour
The most popular flour to make Pupusas is without question 'masa harina' or corn flour.
However, along the way regional variations of the Pupusa in El Salvador have had phases such as the Pupusa de arroz (rice flour), which originally hailed from the town of Olocuilta in the east of San Salvador, as well as blending the two flowers.
The main difference between corn flour (masa harina) and rice flour is that rice flour pupusas have a crunchier texture and brown up more easily but have a plainer, less sumptuous taste.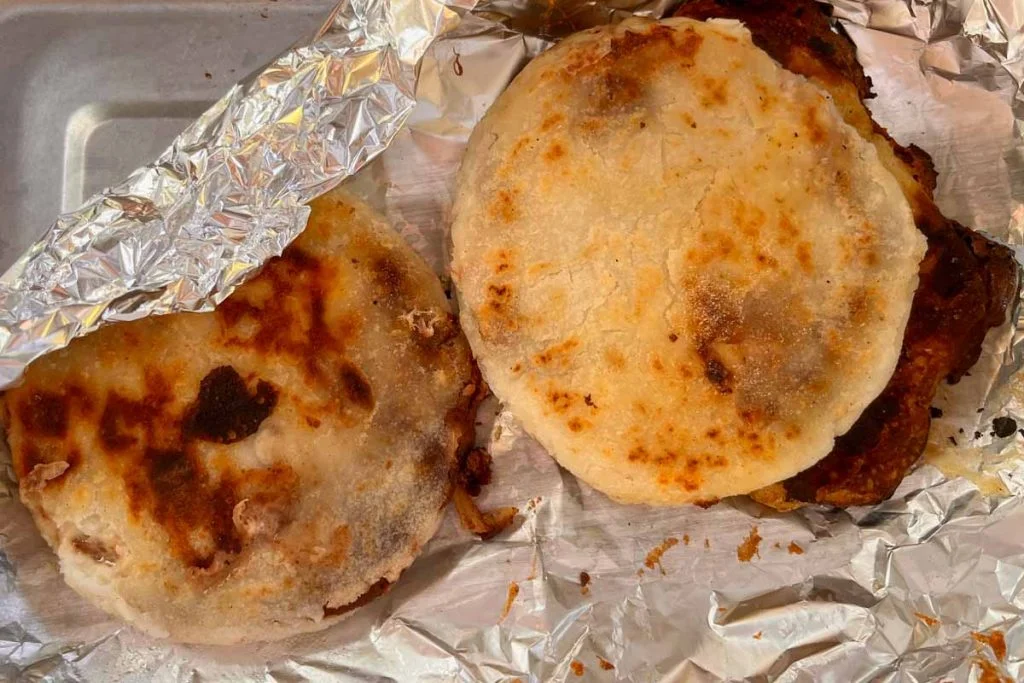 Different Shapes
Unlike the round Pupusa widely eaten today, pre-Columbian Pupusas are reported to have been made into a half-moon shape.
This half moon shape was later adopted in Guatemala in the 1970s and locals of El Salvador across the border jokingly used to call them 'half eaten Pupusas'.
Different Sizes
Pupusas served east of the Lempa River in the southeast of El Salvador are noted for having had a much larger diameter, more like a pizza.
However, this is nothing compared to the largest ever made in 2015.
The municipality of Olocuilta is recorded by Guinness World Records as making the largest pupusa in the World with an incredible diameter of 4.5m (14.9ft).
History Of Pupusas
Pre-Columbian Times
El Salvador and Honduras both claim to be the birthplace of the Pupusa despite neither country existing in pre-Columbian times!
El Salvador has since claimed bragging rights as Salvadoran archeologist Roberto Ordóñez attributed pupusas' origin to the Pipil Indian native tribe of El Salvador.
This is because Mayan artifacts found in the Joya de Ceren "El Salvador's Pompeii", a site of a native village that was buried by ashes from a volcano explosion 2000 years ago, showed preserved ingredients and tools that were used to make an early version of Pupusas.
The pre-Columbian Pupusas were vegetarian, and it was shaped like a half-moon.
The word pupusa also comes from the Pipil word "Pupusawa," which in Spanish is pronounced, "Popotlax," from the Nahuatl "Popotl" which means big, stuffed "Tlaxkalli" or tortilla.
1500s Meat Added To Pupusas
Franciscan friar Bernardino de Sahagun transcribed in 1570 that meats had been incorporated into the Pupusa filling.
1940s Pupusas Become Widespread In El Salvador
In the late 1940s, pupusas were still not widespread across El Salvador and were mostly localized in the central towns and cities of the country.
As the population began migrating to other areas of El Salvador in the 1960s, Pupusa stands proliferated across the country and also spread to neighboring areas of Honduras and Guatemala.
1980s Pupusas Spread Across The Globe
In the 1980s, the Salvadorian civil war forced Salvadoran migration to other countries, mainly the United States.
At this time Pupusas spread their wings and became available outside the country wherever a Salvadoran community was found.
This may have been helped by the popular El Salvadoran music band Espiritu Libre who wrote the song 'A mi me gustan las pupusas' which translates to 'Me, I like Pupusas' in 1984.
2000s Pupusas Get A Boost From Hollywood
More recently Pupusas got a boost in popularity when Hollywood superstar Leonardo Di Caprio declared himself a 'Pupusa Man'.
This was in an interview with Brad Pitt about their favorite Latin American food when promoting the 2019 film 'Once upon a time in Hollywood'.
Pupusas Vs Arepas
An area of confusion for some is whether Pupusas are similar to arepas, which you find in Venezuela or Colombia because they look similar.
However, ask a Salvadoran if they are similar (as I did) and they most likely will look confused, as if you've asked a really stupid question, before replying 'not at all'.
The main reasons for differences in taste are that arepas are made with 'masarepa', while El Salvador Pupusas are made with 'masa harina'. Both are corn flours, but 'masarepa' is precooked. The other major difference is that arepas are stuffed with fillings after they are cooked.
Freezing Pupusas
To freeze Pupusas, place the assembled (but not cooked) Pupusas on a baking sheet lined with parchment. Add the baking sheet with the pupusas to the freezer and allow to chill and get cold for 20-30 minutes. Then transfer the pupusas to an airtight container or freezer-safe plastic bag and store in the freezer for up to 4 months.
You can cook frozen Pupusas straight from frozen. There's no need to thaw them at all!
They simply make 1 to 2 more minutes to cook.
Authentic Pupusa Recipe For Beans, Cheese and Pork Pupusas
Print Recipe
Ingredients
4 Cups of corn flour (masa harina)
1 Cup Water
1 Tbsp salt to taste
1 Cup Chicharrón
1 Cup Quesillo or shredded Mozzarella cheese
1 Cup refried beans
Instructions
1. Prepare The Pupusa Filling
Mix the chicharrón, beans and shredded cheese in a large container, until we have a consistent mixture. Then add salt to taste.
2. Prepare The Dough For Pupusas
In a container add the flour, little by little we add the water until you have a consistency of semi-hard dough, a little softer than for tortillas.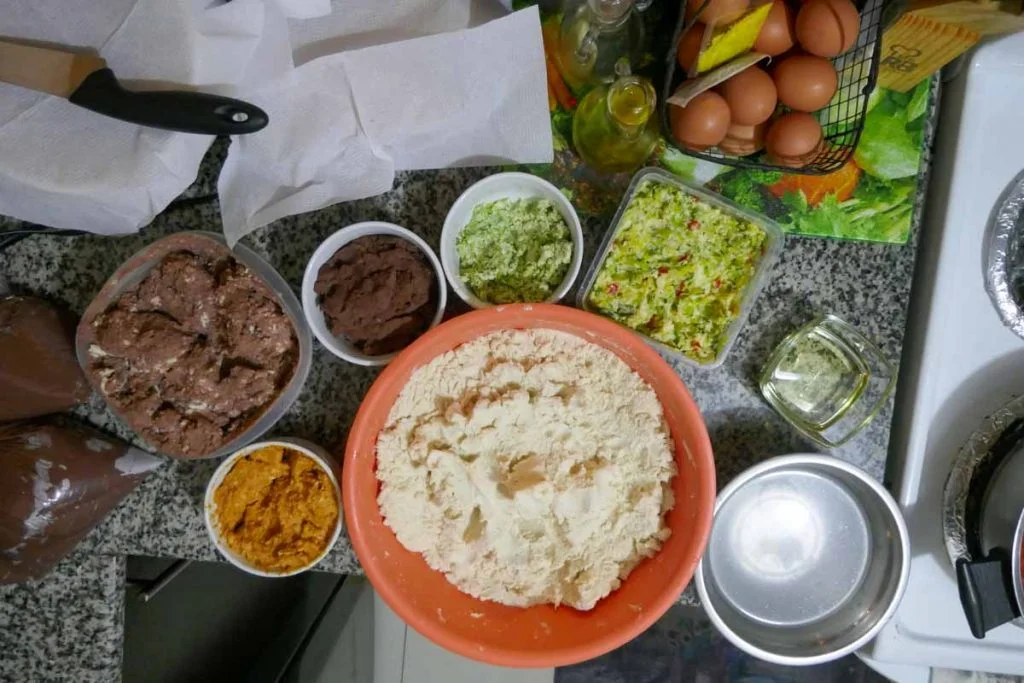 3.Fill The Pupusa Dough
With a little oil and water on your hands, take a handful of dough and turn between your hands and pat it flat at the same time. Keep doing this until the dough is flat and round like a tortilla.
Then take enough filling to occupy about half the space of the flat pupusa dough and put it in the middle.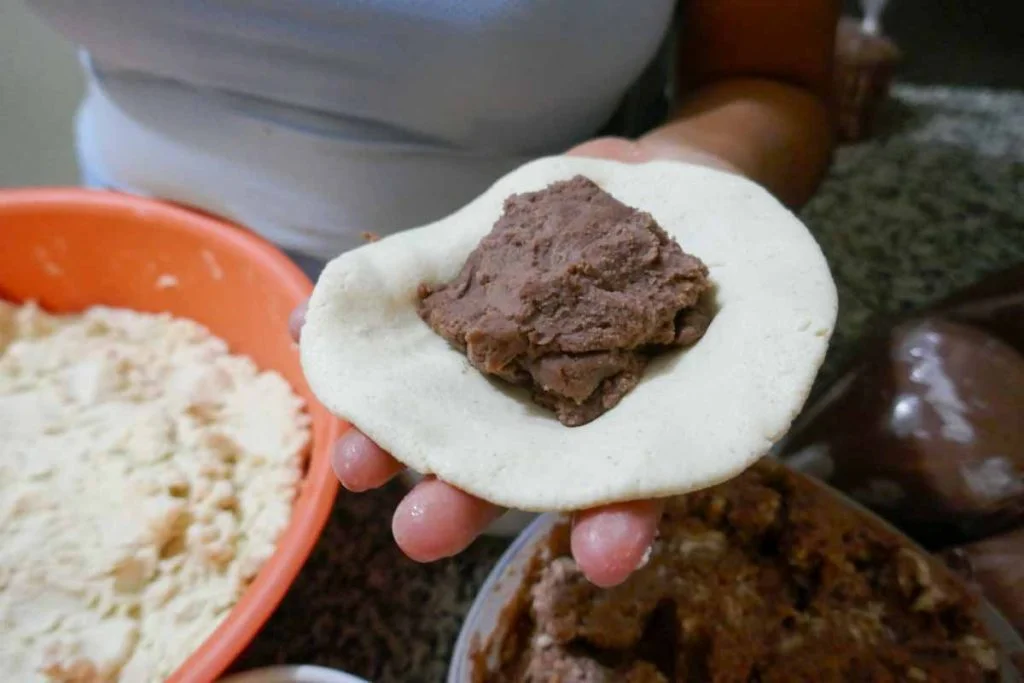 Next close the dough around the filling using your hands to seal in the filling. This creates an excess at the top, which looks like a cloth bag with a draw string. Remove the excess dough at the top and put it back into the bowl.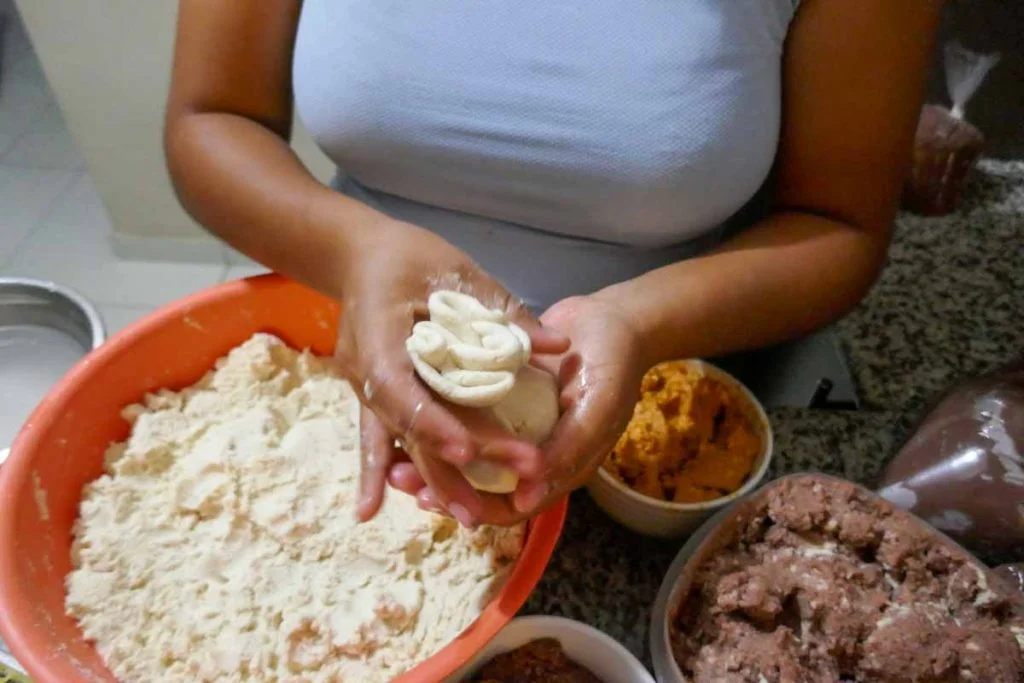 4. Shaping She Pupusa Dough
Put our griddle or cast iron skillet at medium heat. While it is heating, shape the pupusas by patting the balls.
At this point you should have a round ball of dough with filling inside. With a little water and oil on your hands, take the dough and turn it between your hands while patting it flat. This technique needs a bit of practice to perfect. You want the pupusa about 1cm thick and ideally without and filling showing.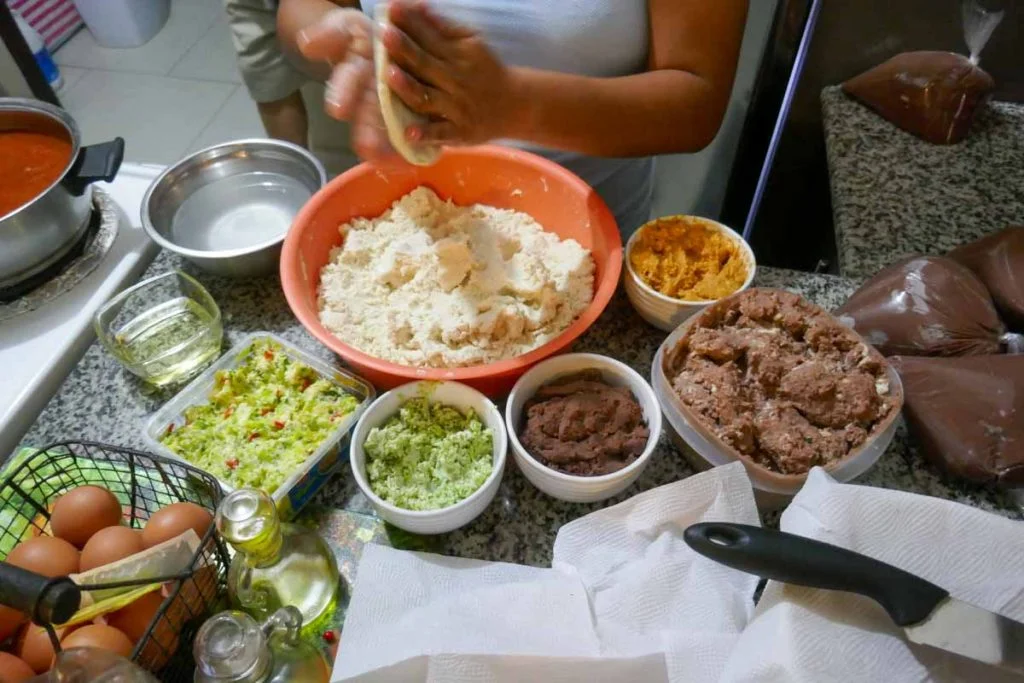 5. Cooking The Pupusa
Lay out your flattened pupusas on film to keep them seperated before cooking.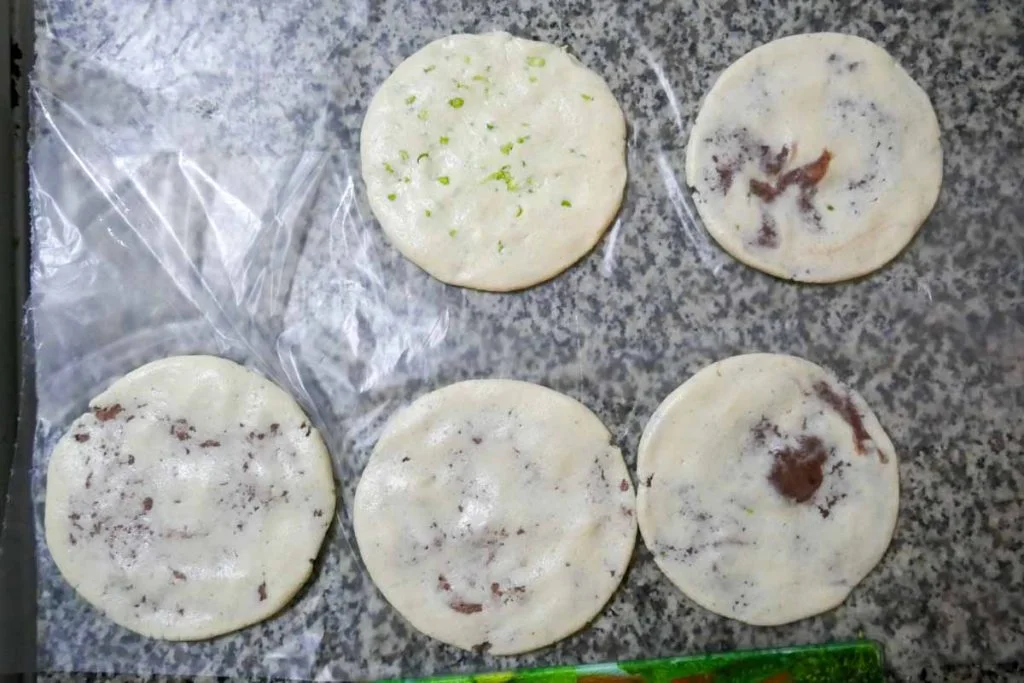 Once you have a flat round dough shape, place it gently on the griddle.
Wait a couple of minutes and turn it over with a spatula. Do not try to force the spatula in. If it is not easy to get under the pupusa it is not yet cooked. If you find the pupusas are sticking the griddle, pass a cloth soaked in oil over the griddle which will help to prevent it from sticking. Don't overdo it though because the pupusas can get greasy which is bad.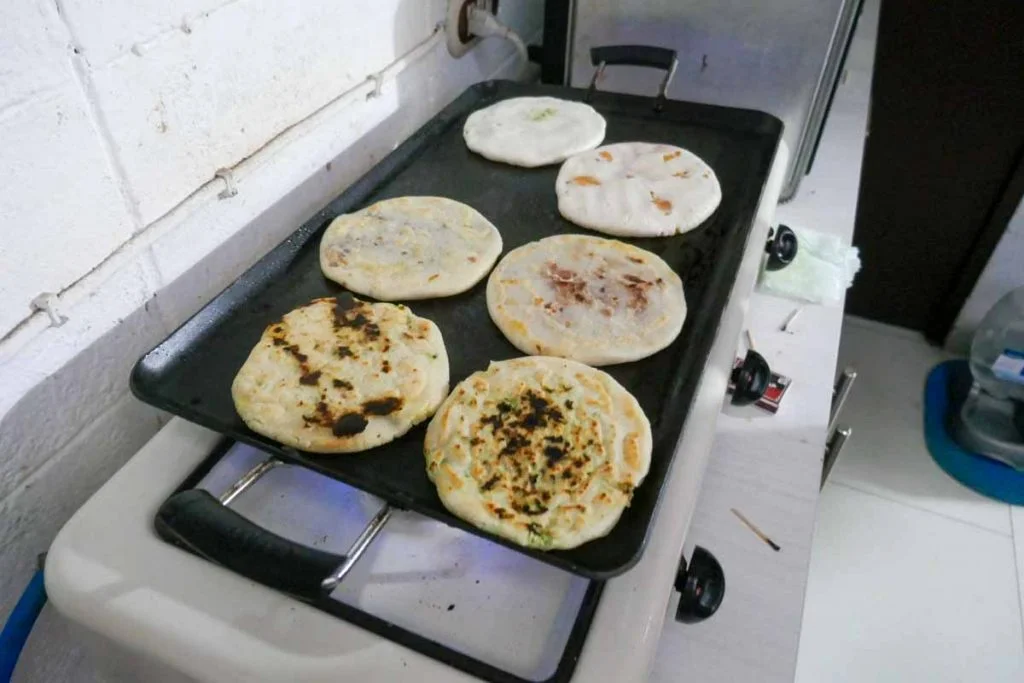 After turning the pupusas, wait another couple of minutes and check it. Remember this time will depend on your griddle or skillet and how high you have the heat.
Turn it twice per side, when the cheese that has come out is well browned and the pupusa has changed color, it is ready.
That's it!
Remove it from the heat and enjoy this authentic national dish of El Salvador!
Serve with sour cabbage relish curtido and salsa roja. The salsa roja is either spooned on top of is added to the plate for dipping the pupusa into. A small of the curtido is usually placed on top of the pupusa to taste.
Any leftover cooked pupusas should be stored in an airtight container in the fridge.
To enjoy the pupusas at their best reheat them on a hot griddle for a minute on each side.