Few visitors to El Salvador under 35 years of age fail to visit the small town of El Tunco and that's a good thing!
If you're going to visit El Salvador, El Tunco beach is a great place to hang your hat for a couple of days, and more if you're a surfer of any age or experience level.
El Tunco is a small town built on the shores of the consistent surf breaks of El Tunco beach and it is the epicenter of surfing and partying on the coast of the region of La Libertad, El Salvador.
The name El Tunco means "The Pig" and it takes this name from the iconic big rock that can be seen in virtually any photo promoting El Tunco.
The rock is supposed to resemble an upside-down pig. We think the jury's out about that, but see what you think when you head there!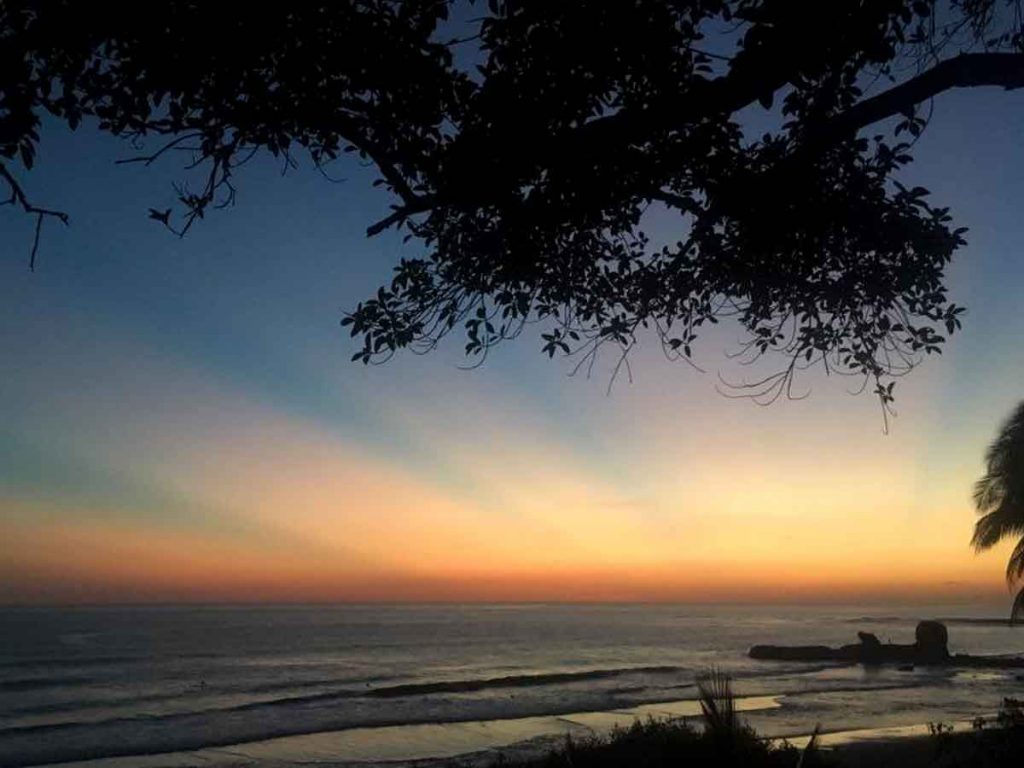 Things To Do In El Tunco Beach
Surfing
Surfing is the main attraction in El Tunco and it attracts surfers from all over the world.
Like west Mexico, Nicaragua and Costa Rica, El Salvador is heavily exposed to swells from the south pacific. This means that there is consistent surf for much of the year.
The beauty of El Tunco for many surfers is the simplicity of the setup. You get yourself to El Tunco and that's all you really need to do have a great surfing trip.
Why?
Well, it's because you have four surf spots at your fingertips. Two breaking right and two breaking left and more a car trip away.
El Sunzal
The most famous and most popular wave in Playa El Tunco is El Sunzal.
This surf spot is situated to the north of the town and is about a five-minute walk at low tide or a 10-minute walk over the grey dull rocks which can burn your feet if you are not careful (as can the sand on all the black sand beaches during the heat of the day).
This predominately right-breaking wave is a swell magnet so there is usually a crowd here anywhere up to about 50 people.
It's a wave for all levels, beginner, intermediate and advanced.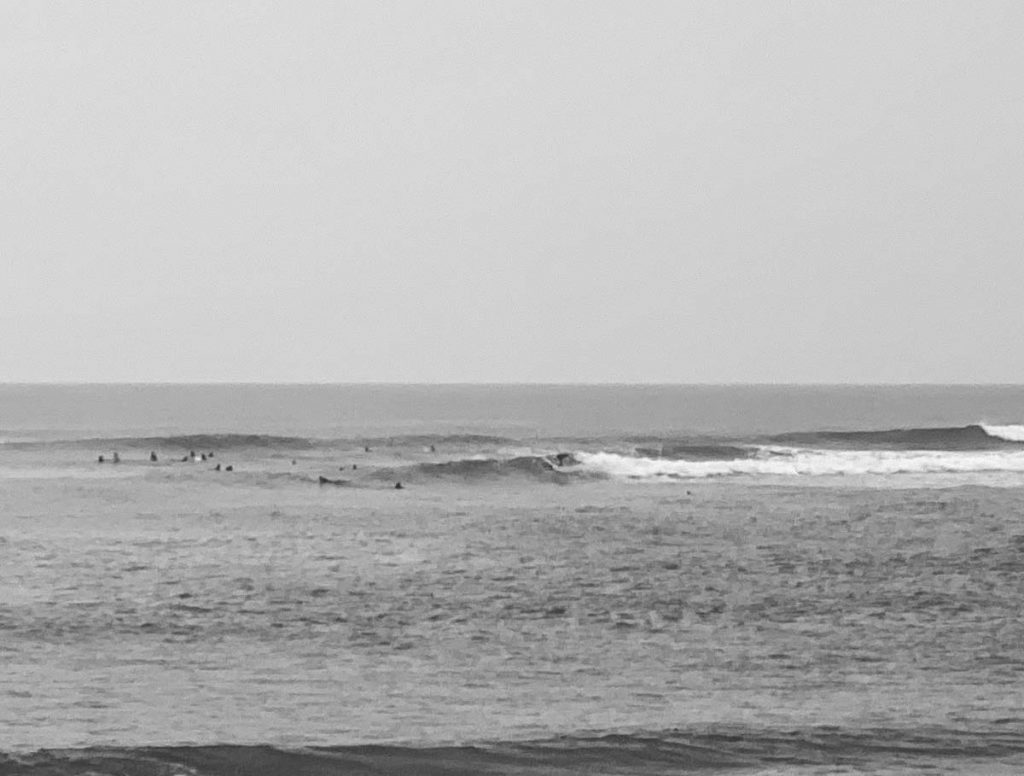 La Bocana
La Bocana is a predominately left-breaking wave to the south of the town that breaks by the river. It's mostly a wave for more experienced surfers and was the main contest site for the 2021 International Surfing Association event.
La Bocanita
This is a punchy high tide beach break best left to experienced surfers that breaks to the left of the pig rock.
Hmmm.. Don't the name of this Surf Spot
To the right of the pig rock in front of the small river at high tide there is also a wave that can offer small lefts and rights.
Learn To Surf
Surf lessons are a popular thing to do while passing through El Tunco. The good news is a surf lesson can very easily be arranged and the surf guides are all friendly and they take your safety very seriously.
There are few better places in the world where learning to surf can be so much fun. Even if it's your first time you can still get the adrenaline rush of surfing.
How?
Well, unlike many other places, there is calm water to sit in most of the time, and the guides will push you into a wave without you having to invest the time to learn how to paddle into the wave by yourself which can take days.
You can also sit waiting for a wave without having to navigate too many other waves, which saves you energy and is much less intimidating and frighting.
Watch Sunset
Incredible sunsets can be watched at Playa El Tunco. Most of the time the sun sets over the headland so it's best to watch it by the pig rock where the main street hits the black sand beach. At weekends you'll often see a crowd gathered on the rocky beach watching the day wind down.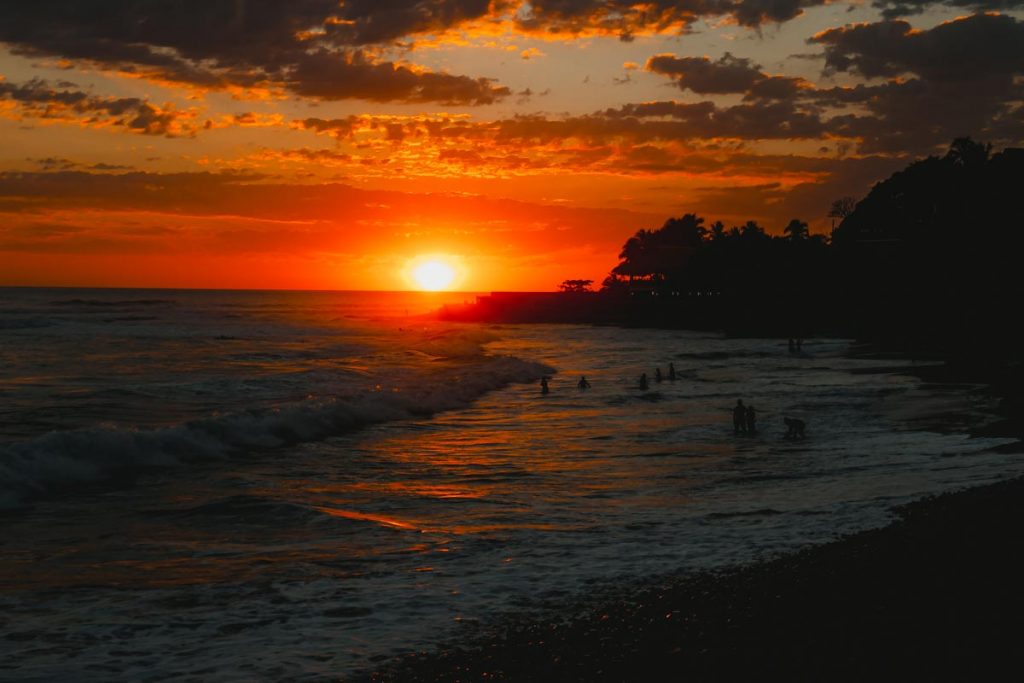 People Watch
If you're a non-surfer, playa El Tunco is a great place for people watching and just chilling out. You get a real influx of travelers from all over the world as well as a lot of locals.
Head to one of the bars and eateries along the beach which offer good places to kick back and enjoy a drink while checking out whose doing what.
Music
If you're in town for a few days and are a music fan you have a variety of options.
Generally, you'll be hearing Latin music especially "Reggaeton", which is the genre of music favored by the youth and the fodder of most night spots.
There is also a live music venue 'La Guitarra'.
At sunset on a weekend in El Tunco, you'll probably find a mariachi band touring the beach who will play you a song for a small fee.
Pamper Yourself
There are a couple of places in El Tunco that offer yoga classes for both surfers and non-surfers alike.
You can also get yourself a massage, pedicure, or manicure at 'Day' or 'Stone Massage'.
Ask at your accommodation for more info.
Check Out the Local Wall Art
El Tunco is increasingly filled with cool wall art to check out as you walk around.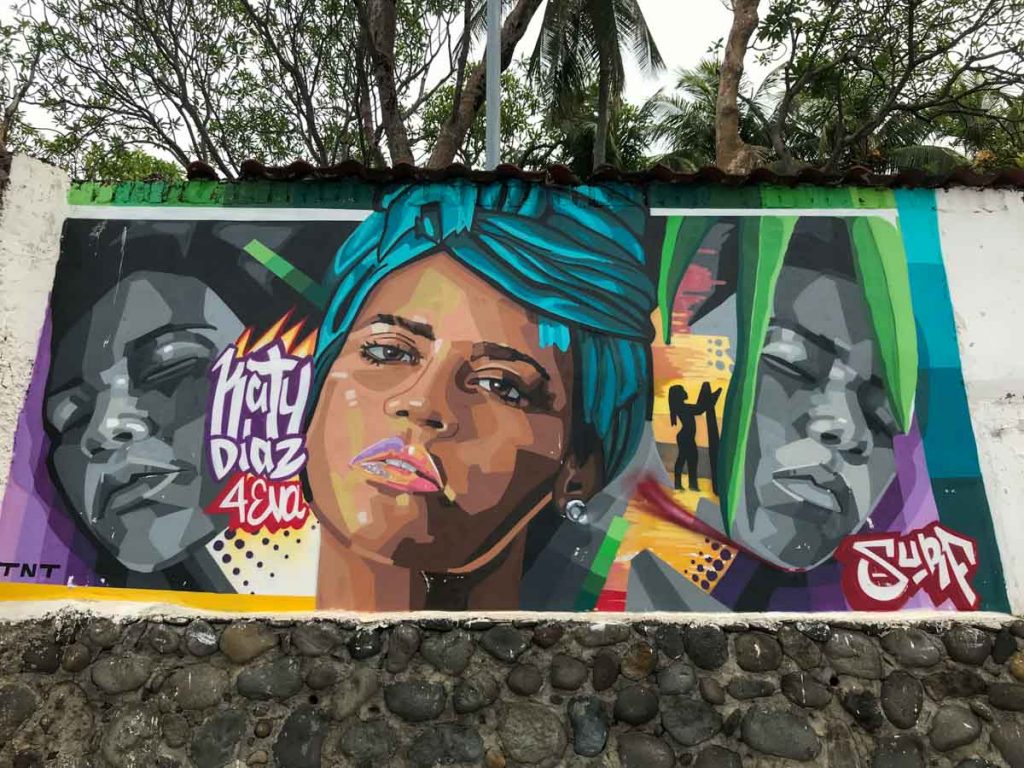 Go Shopping
It won't take you long but there are a few stores selling clothes and souvenirs.
At the weekends and evenings, you'll also see boho jewelry for sale.
Visit Tamanique Waterfall
This trip to a local waterfall should only be taken in the rainy season and it's best to hire a guide.
Visit the Caves
There are some caves south of El Tunco beach walking towards La Puerto de La Libertad that is accessible by foot at low tide.
They are about a ten to fifteen-minute walk a lot of it over the rocks.
El Tunco Town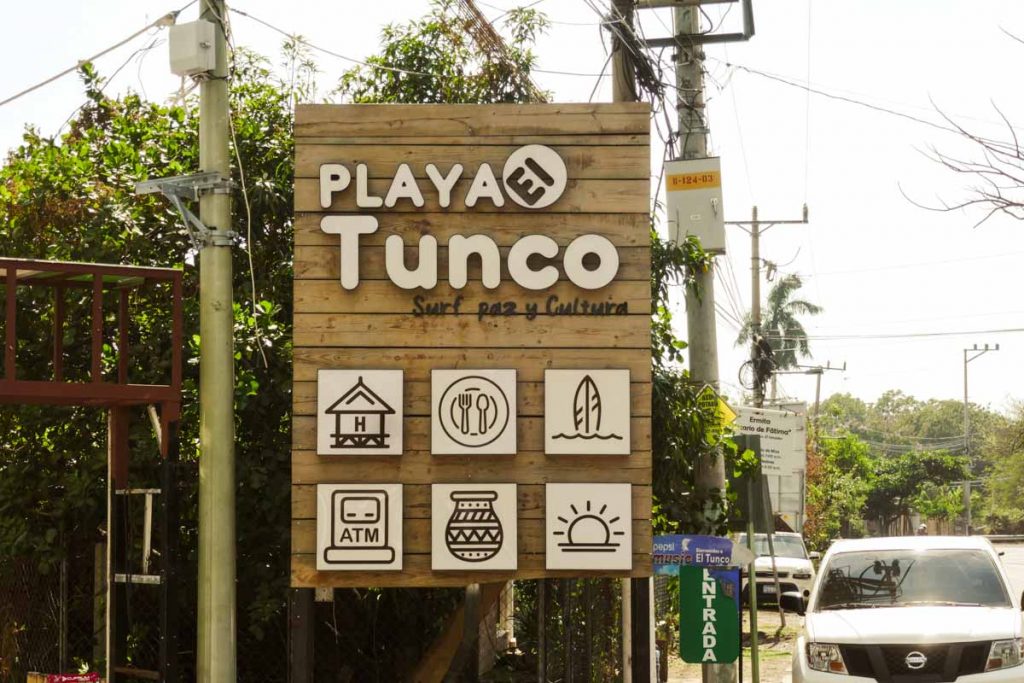 El Tunco is a beach town built entirely around the needs of visiting travelers, tourists, and locals. It's the flagship of the El Salvadorian government's 'Surf City' project which aims to expand surf tourism in El Salvador.
Unlike anywhere else along the coast the whole town of El Tunco is a gated community where visitors by car are charged an entrance fee that is valid for 2 days. The result is well-maintained roads and a secure community feel.
El Tunco is not big in size and everything you need is in walking distance. It's essentially a two-street town plus the beach front, which is great because the beach tends to be a couple of degrees hotter than in San Salvador, with more of a humid feel, so you don't want to walk too far.
During the week El Tunco tends to be pretty quiet with a low-key chilled-out vibe. It's at the weekend when it turns into a party town, with a lot of families coming down from San Salvador to enjoy the beach and sunset during the day and a local party crowd arriving at night at 10 pm plus.
Locals are friendly and most of the younger folk speak some or even great English. The local surfer look is board shorts, long dark hair, and a ripped body.
Unfortunately at certain times of the year when there isn't much water flowing in the river the restaurants and accommodations bordering the river can suffer from poor drainage and have a bit of a whiff going on.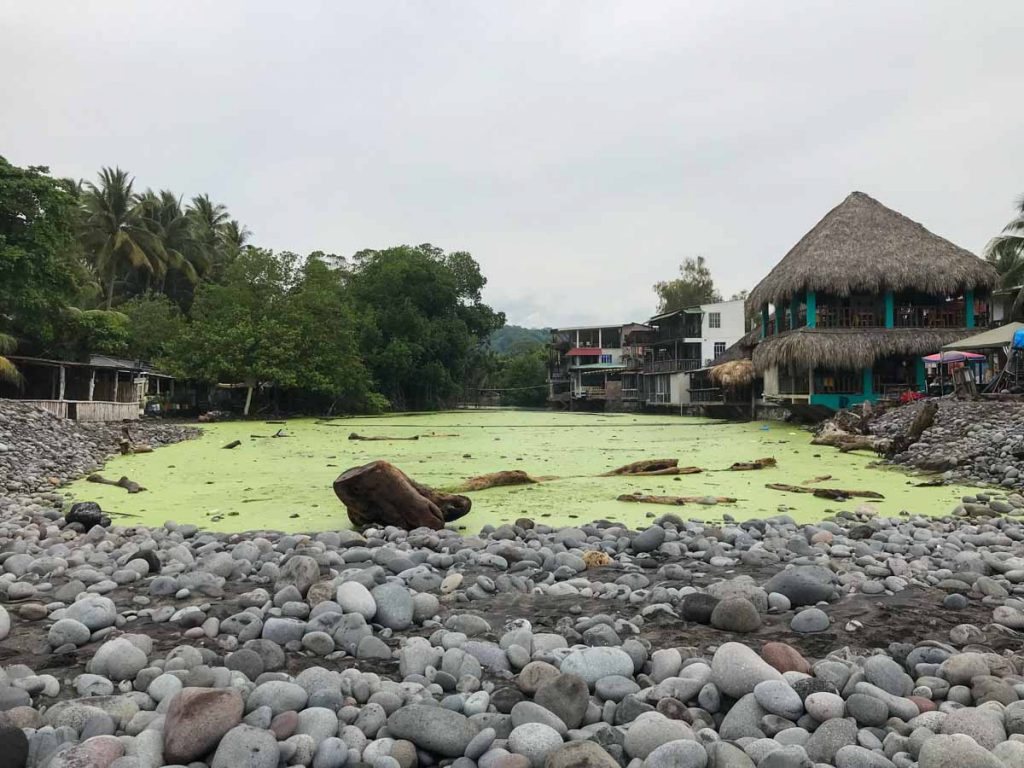 Amenities In El Tunco
Amenities-wise, you can get most things you need in town.
The ATMs are fairly reliable. If they don't work for some reason, your next best bet is to head down 'La Puerto De La Libertad' which has a more reliable connection. Better still, cash up before you arrive.
There's a surf shop where you can buy equipment or a cheap new board, as well as lots of board rental places.
There are a few small supermarkets dotted around but most folks eat at the local restaurants.
There is also at least one travel agency in town where you can onward road travel out of El Tunco to other hotspots.
El Tunco Beach (Playa El Tunco)
El Tunco beach itself is a black sand beach like the vast majority of beaches in El Salvador. The look of playa El Tunco changes with the season.
For the majority of the year when the surf is strong, there is little sand on the beach and the beach is full of dull grey rocks.
It's only between when surf season finishes in Dec through March that the beach once again becomes sandy. And even then only on mid to low tide!
Aesthetically, playa El Tunco is not a picture postcard beach and it's not really a swimming beach but that's not why the vast majority of folk come here.
El Tunco beach is mostly about surfing or watching surfing and soaking up the beach vibe. Luckily, the beachfront restaurants and bars mean you don't need to be down on the beach itself to enjoy the view and experience.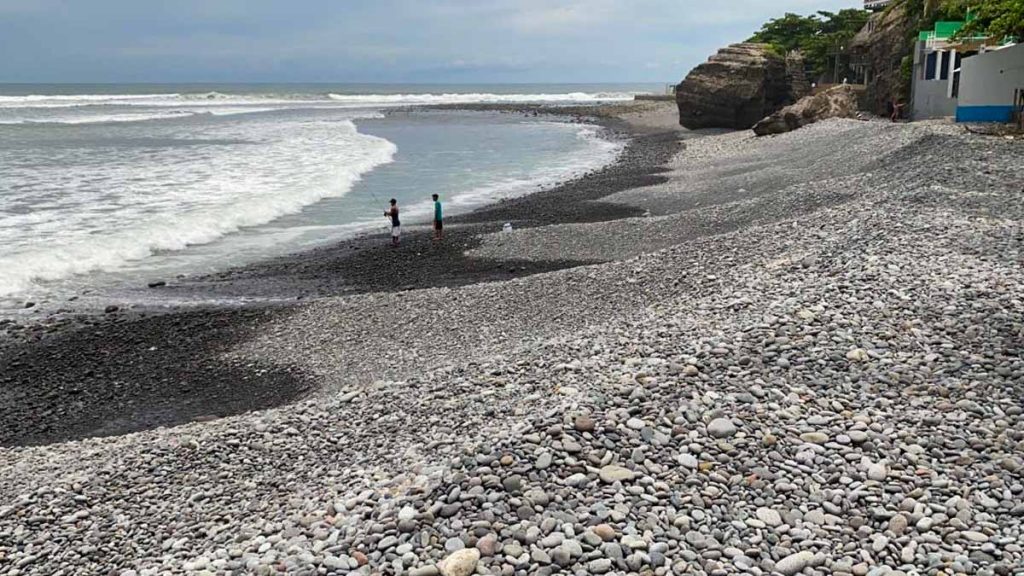 Accommodation In El Tunco
We've stayed in about 10 places in and around El Tunco and would say two things about the accommodation in the town itself.
1. If you want to avoid the party noise stay away from the main street at the weekends, otherwise forget about sleeping until about 3 am.
2. Stay away from rooms that have a metal roof above them and if you can afford it go for accommodation with aircon.
For most of the year, El Tunco gets hot during the day and the heat stays during the night. This means that it can be uncomfortable to sleep anywhere in rooms without aircon that are exposed to the sun during the day.
In El Tunco itself, most of the accommodation caters to backpackers and mid-budget travelers although there is also the Boca Olas resort that is more upmarket.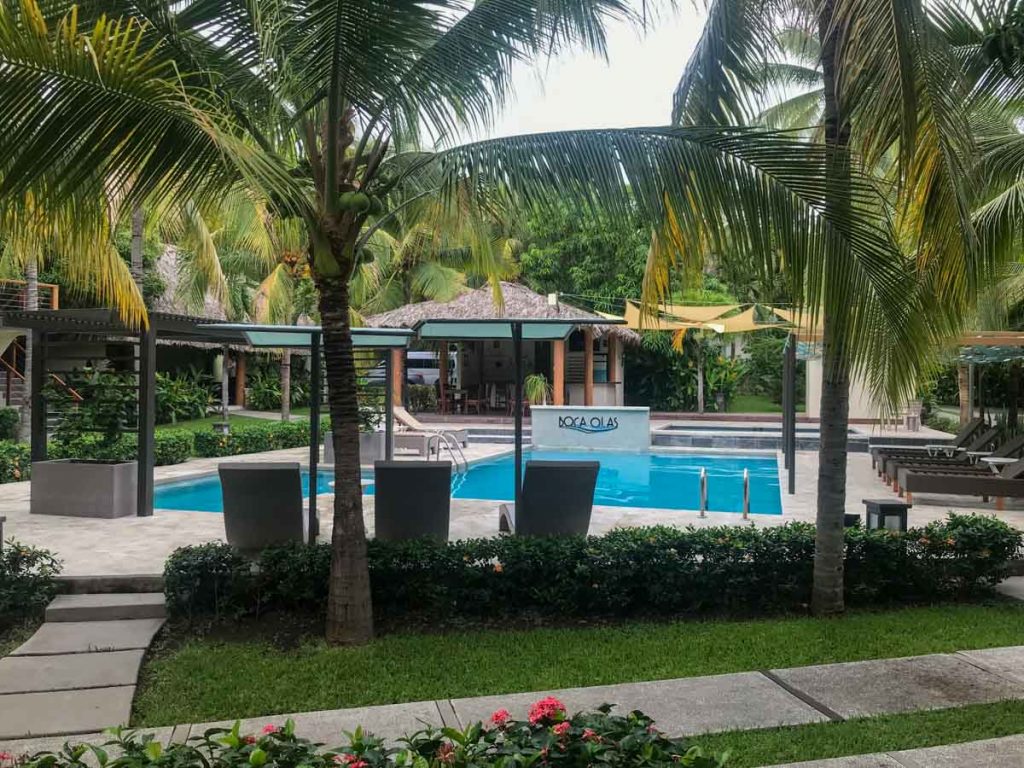 New places to stay are springing up all the time and many of the nicer more expensive accommodation options can be found outside of El Tunco itself in the surrounding area of El Sunzal.
Places such as Hotel Sunzal Reef are more upmarket and Kayu may suit families and older surfers who want more of a chilled-out surf experience. They sit outside El Tunco but give you direct access to the wave at El Sunzal without having to deal with walking along the rocks on the beach.
Eating In El Tunco
There's no shortage of places to eat in Playa El Tunco however most offer a similar type of menu that will cater to most tastes, but may not excite them over a longer stay.
You can also eat Pupusas the most famous El Salvadorian food at street food stalls and restaurants in town. Tip: the less greasy, the better the Pupusa!
There are no especially fancy restaurants in El Tunco itself although Pargos which specializes in seafood is quite good.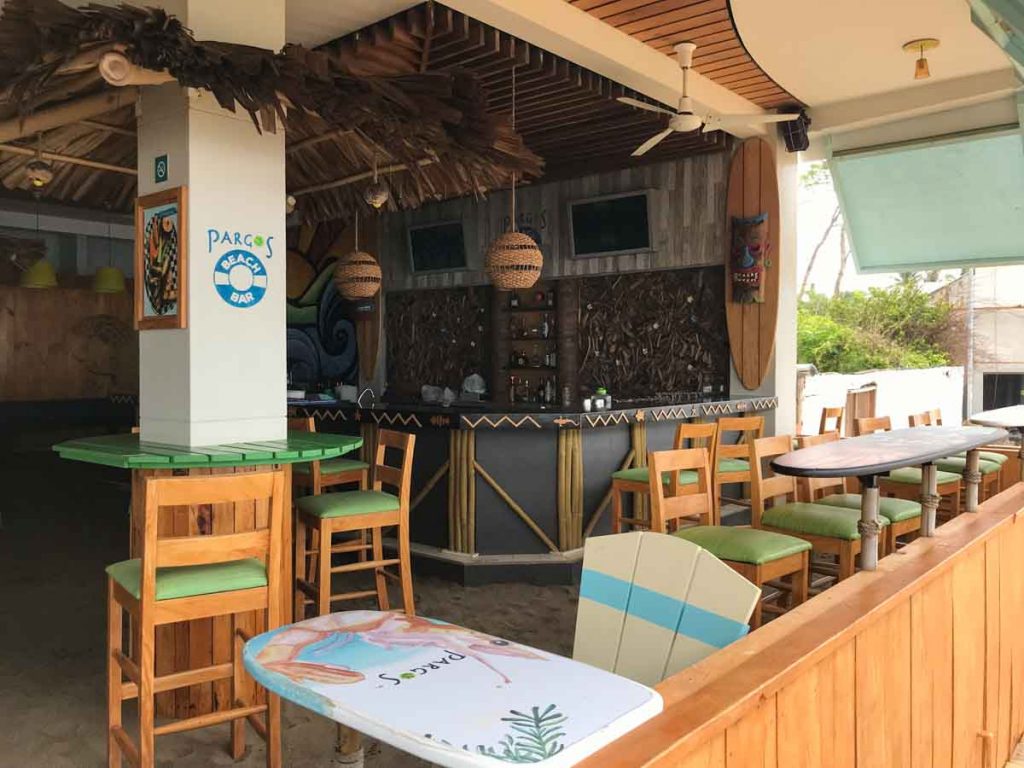 If you fancy a treat, higher-end food (but not expensive by western standards) can be found by heading a few minutes north outside of El Tunco beach. It's not fine dining as such but you'll find a couple of big El Salvadorian chains such as Betos and Cadejo that make a contrasting experience to dining in El Tunco.
Head south and you can go down to Acantilados. It's a high-end hotel.
Around El Tunco
One of the downsides of El Tunco is that it is fairly westernized and if it is the only part of El Salvador you visit you'll have a fairly skewed impression of the country.
If you want to have a more local beach experience head to Playa Conchalio. It's basically traditional for Salvadorians to visit the beach at the weekend, so be warned, if you head down on a Sunday it will be packed.
An unusual characteristic of El Salvador's coastline is how much of it is privately owned. Don't fret, there is still a lot of public access, but it's often difficult to view the coast when traveling along the coast road of La Libertad, the most popular beach area in El Salvador due to its many surf spots and proximity to San Salvador.
Getting To And From El Tunco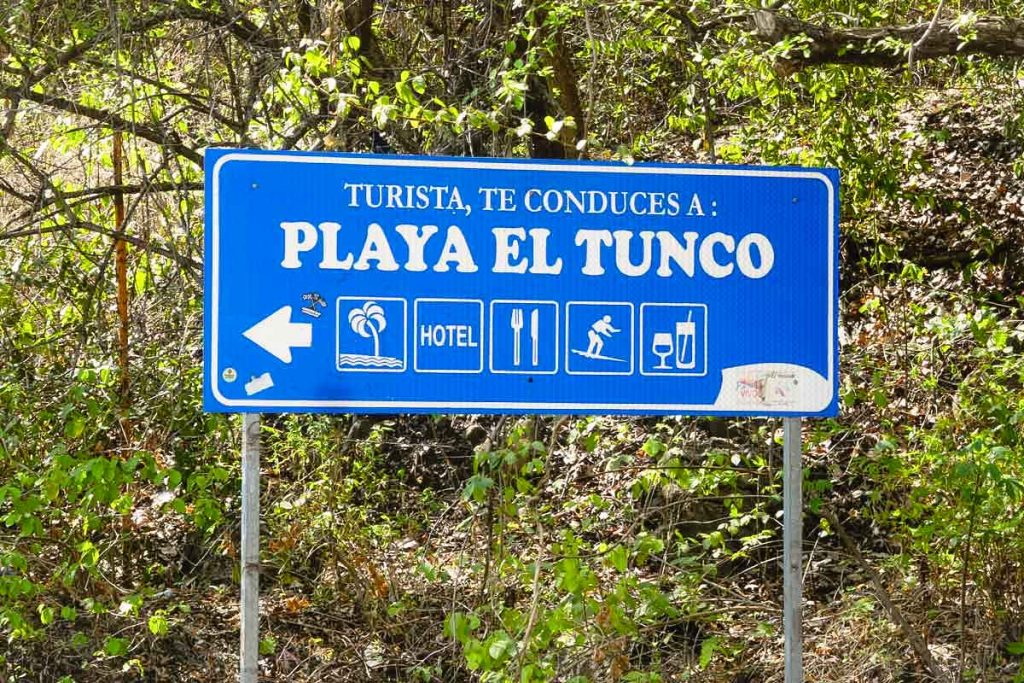 By Car From San Salvador
El Tunco is about a 40-minute drive from San Salvador and an hour from the international airport, depending on traffic.
By Bus From San Salvador
The best bus to Playa El Tunco from San Salvador is the 102A air-conditioned minibus. Catch it from the corner of 17a Av Sur and 6a Calle Poniente or from either the Terminal de Occidente or Estación Ceiba de Guadalupe bus stations. It costs around $1.50 USD and takes about one hour.
Alternatively, take the 102 local chicken bus (known as a 'chicken bus' because you may be crammed in like chickens if it's full) from Terminale de Occidente and change to bus 80 or 92 at La Libertad. It should cost about $1.25 USD in total and takes about 1.5 hours.
From Neighbouring Countries
You can also arrive internationally overground. There are shuttle buses that run to and from tourist hotspots in Guatemala, Honduras, and Nicaragua so it's easy to fit it into an itinerary that country hops Central America.
Centrocoasting has a lot of useful information on getting to El Tunco.
Getting Around
Once you're there you have a variety of transport options.
A hire car with aircon is ideal if you want to explore. Expect to pay two to three dollars for parking in most places.
There are also regular low-cost public buses going up and down the main coast road that are great for visiting other beaches.
You can also rent scooters with or without a surfboard carrier as well as a car.
Beyond that, there are also minivans offering surf transport and visits to local places of interest.