Delicious traditional food may not be the first thing that comes to mind when you think of El Salvador. Especially if you drive around San Salvador the capital of El Salvador, and are bombarded by signs for the major US and other country restaurant chains, such as McDonald's, Wendy's, Subway, etc.
Yet, you may be surprised that Salvadoran cuisine has a wide variety of popular traditional dishes that are still commonly served throughout the country.
And despite being land-locked to other parts of Central America, you'll find authentic Salvadoran food is still unique, having influences from both Spanish cuisine and the ancient domestic Lenca, Maya, and Pipil tribe traditions.
Maize, corn, and flour are the main sources of carbohydrates in most Salvadoran foods and protein is mostly from meats like beef, pork, chicken, as well as seafood.
El Salvador Savory Dishes
1. Curtido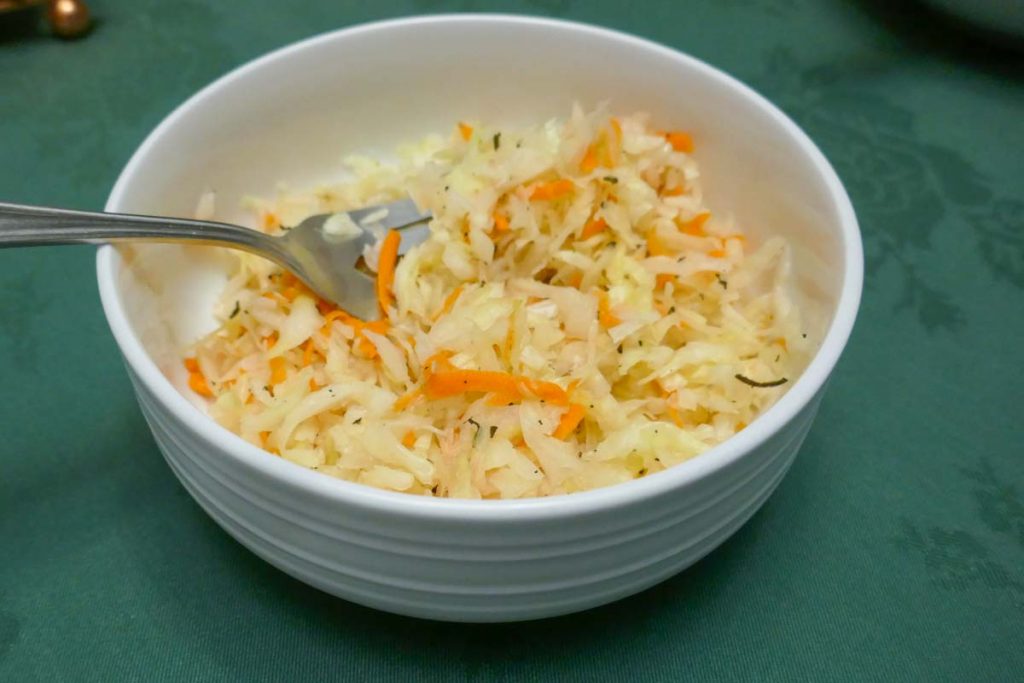 Curtido is a flavorful sour cabbage relish/salad/slaw served with many dishes in El Salvador, so it's a great place to start.
For more on Curtido and an authentic recipe click here.
2. Pupusas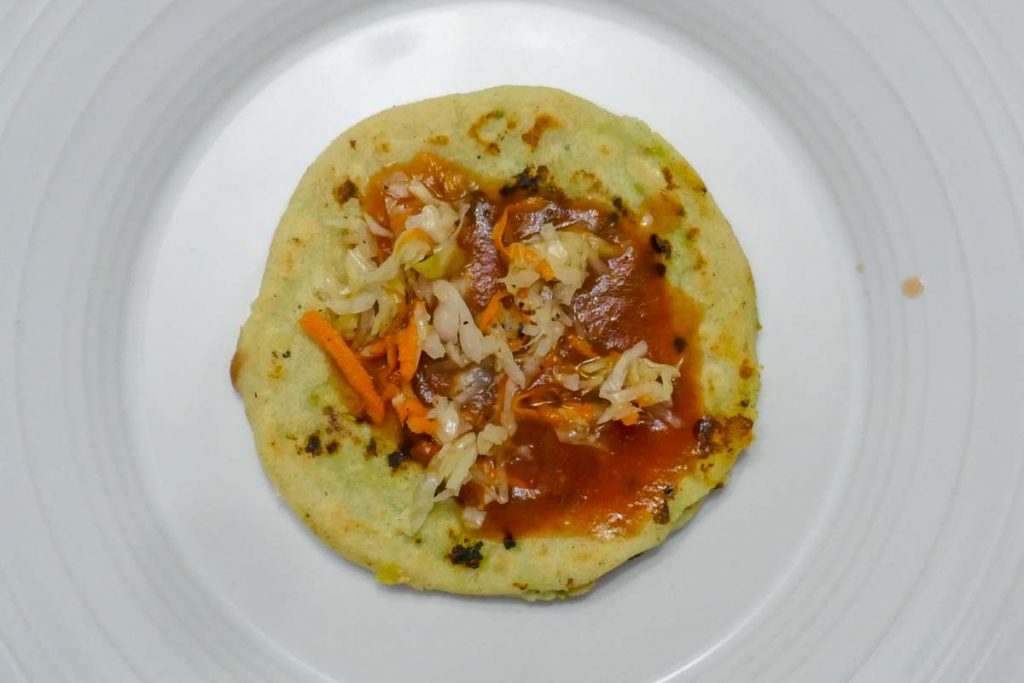 Pupusas are without doubt the national dish of El Salvador and the absolute must-try of Salvadoran cuisine. They are medium to thick, stuffed, skillet-cooked corn flour tortillas.
The best pupusas are always handmade and not greasy. They and sold at street corners and special restaurants called pupuserias, as well as almost any non-brand restaurants throughout the country.
Salvadorians eat them by hand.
For more information on pupusas as well as great recipes see our post on pupusas.
3. Plantains With Eggs, Cheese, And Beans – The Traditional Breakfast Of El Salvador
This traditional Salvadoran breakfast is still much loved and you can find it on any breakfast menu in El Salvador.
The typical Salvadoran breakfast will include eggs, beans, fried plantains, cheese or sour cream, as well as fresh tortillas or bread on the side. Sausage and avocado are also commonly added.
4. Casamiento (Rice and Beans)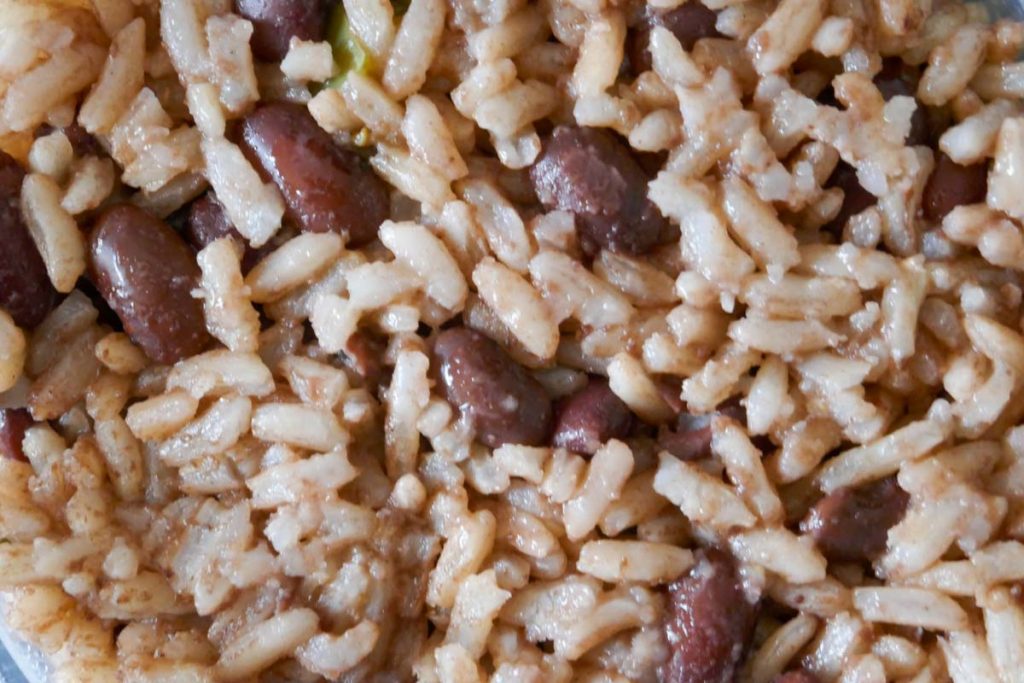 Casamiento is a traditional dish of El Salvador that is usually made from leftover beans and rice that are mixed together with sautéed green peppers, onions, and tomatoes.
It's typically served with plantains, fresh tortillas, cheese, and or crema.
The name Casamiento means 'wedding' because it's a marriage of rice and beans!
If you mix Casamiento with eggs and it becomes a traditional Salvadoran breakfast.
5. Yuca Con Chicharron (Yuca and Pork)
Yuca con Chicharron is a traditional Salvadoran food that is a favorite appetizer.
Imagine delicately fried Yuca (Cassava) cut into wedges, served with Chicharrones, which are pork belly chunks or pork rinds that are deep-fried.
This dish is typically served with the sour cabbage slaw, curtido, as well as salsa soja (tomato salsa) and seasoned with lemons, although this can vary.
If you're not familiar with Yuca, it's a starchy root vegetable, almost like a potato when it comes to texture and taste. It needs to be steamed before it can be deep fried.
If you're trying to picture what Yuca tastes like, think of a firm, chewy texture with a light sweet grainy taste.
6. Pasteles (Patties)
Fried Pasteles or Pastelitos are another popular Salvadoran food eaten mainly as a snack or appetizer. Variations of these can be found throughout Central America, Latin America, and Spain.
Pastelitos are fried corn dough patties that are filled with meats like chicken, pork, or beef and finely chopped vegetables.
The Salvadoran kind is prepared with corn dough, achiote powder, and spices. Achiote is a reddish condiment derived from the achiote tree, which is native to Latin America.
Salvadoran pastels are often served with salsa roja (tomato salsa) and curtido (fermented cabbage salad).
7. Tamales
Tamales are a very traditional food of El Salvador that is mostly reserved for special events, ranging from funerals and weddings to Christmas.
Tamales consist of a corn-based dough that is wrapped in banana leaves that are then steamed for several hours. Once cooked they have a gooey, chewy consistency and are very filling.
Tamales are ready to eat after cooling, but some prefer to eat them the next day because this gives time for the flavors to combine and the texture to improve.
You can either use the leaves wrapped around the Tamales as a makeshift plate or throw them away prior to eating.
There are several different types of Tamales:
Traditional El Salvadoran Tamales
With traditional tamales, the corn dough is mixed with spices and stuffed with tomato sauce, meat (chicken, pork, or turkey), any combination of olives, green pepper, thin pieces of potato, and perhaps, a slice of boiled egg.
Tamales Pisques (Re-fried Beans Tamales)
In Tamales Pisques the corn dough is stuffed with refried beans (frijoles) and sometimes Salvadoran cheese.
Tamales de Azucar (Sugar Tamales)
Sugar Tamales are stuffed with Salvadoran sugar (Dulce de Atado) or sometimes with either chicken or pineapple jam for a sweet and savory flavor.
Tamales De Pollo (Chicken Tamales)
Chicken tamales are filled with a tomato, onion, and garlic sauce and shredded chicken. The chicken is stewed with potatoes, chickpeas, and olives beforehand for extra flavor.
Tamales de Elote (Corn Tamales)
Corn tamales are seasonal because the main ingredient is fresh corn, which is only available at the crop's earliest stages. Unlike the other tamales, corn tamales are wrapped in corn leaves and not in banana leaves. They are served with Crema, which is Salvadoran cream cheese.
8. Panes Rellenos (Stuffed Sandwiches)
Panes Rellenos are warm sandwiches, often made with chicken, carne asada, or turkey (Pavo or Chumpe).
The meat is marinated in a tomato sauce and then roasted with native Indian spices (annatto, clove, allspice, pepper) that give the meat an authentic and indigenous flavor.
The meat is then hand-pulled and added to the sandwich.
This sandwich is served with lots of filling so you don't really taste the bread much.
It's finished off with a variety of vegetables, including carrots, cucumber, radish, and tomatoes.
9. Lomo Relleno (Stuffed Pork Loin)
Lomo Relleno or stuffed pork loin is a traditional Salvadoran meat dish, that is mainly cooked on special occasions like Christmas.
It consists of pork or beef tenderloin that is pounded lightly before being rolled around a filling. The meat is typically seasoned with spices and seasonings and brushed with mustard sauce on both sides.
There are many variations of the filling but it most generally contains a variety of chopped vegetables such as carrots, onions, potatoes, green beans, peppers, chili peppers, eggplants, or güisquil, as well as garlic, mushrooms, capers, olives, boiled eggs, various herbs and spices, and slices of ham or bacon.
10. Elote Loco (Crazy Corn)
Crazy corn is an inexpensive and explosive traditional snack that takes corn on the cob to a whole new level.
Corn is boiled or grilled on the cob and then slathered in a unique creamy sauce that includes tomato ketchup, mayonnaise, mustard, grated cheese, and hot Worcestershire sauce (salsa Inglesa).
11. Churrasco Típico (Grilled Meat Served with Fried Beans and Plantains)
Most Salvadorians eat a lot of meat and their restaurants are very good at preparing it.
For this dish, the meat is first marinated in orange juice, oil, sliced onions, and different seasonings. It is then grilled on an open fire and served with fried beans and plantain, fresh cheese, grilled vegetables, and chirimol – a delicious chopped tomato and herb side dish.
12. Mojarra Frita (Fried Fish)
Fried fish is a popular dish in El Salvador. The mojarra fish found in tropical regions is a popular choice. Once cleaned and seasoned it is then fried in hot oil until crispy.
It is typically served with rice and a salad of lettuce, cucumber, tomatoes, and lemon.
13. Salvadoran Enchiladas
Salvadorans love this traditional dish and enjoy it for lunch or dinner. A typical Salvadoran enchilada consists of small, thin fried tortillas, topped with ground beef, bean paste, hard-boiled eggs, grated cheese, avocado, cabbage, and tomato sauce.
The dough for enchiladas is made with corn dough mixed with achiote powder and other condiments.
14. Coctel de Conchas (Shellfish Cocktail)
Cóctel de conchas is a Salvadoran shellfish cocktail. It's made from black shell clams (conchas negras), combined with diced onions and tomatoes, cilantro, and lemon or lime juice. It's dressed with a mixture of Worcestershire sauce (salsa ingles), hot sauce, and salt.
Typically it's served with crackers, lemon, and hot chili peppers.
El Salvador Soups
15. Sopa De Pata – (Cow Foot Soup)
Sopa de Pata is popular with Salvadorans, especially the older generations, and is considered a delicacy because it's not available all the time. Most places that make it do so on specific days of the week for lunch.
Sopa de Pata is made with meat from cow feet and cooked with vegetables, such as yuca, sweet corn, plantains, beans, tomatoes, and cabbage.
This soup is just like Sopa de Mondongo (see below), except it only has meat from cow feet and doesn't include tripe or tendons.
To help the cow hooves lose their barnyard aroma, they are washed in lemon juice before being added to the soup. When served, the flavor of this soup is enriched with lemon juice, cilantro, and chili powder.
16. Sopa de Mondongo (Tripe Soup)
This soup is made using cow's tripe, tendons, and cartilage mixed with spices, corn, cabbage, carrots, and yuca. It is regularly sold during the weekends at lunchtime and some locals claim it helps with a hangover.
17. Sopa De Pescado (Fish Soup)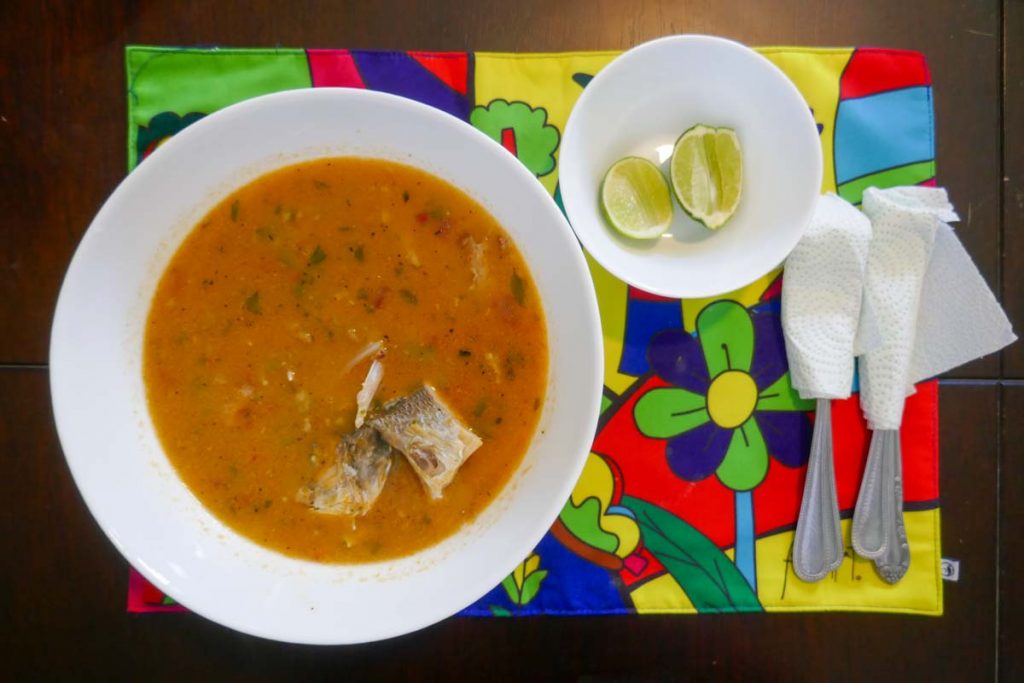 This soup is traditionally served on Good Friday. Sopa de Pescado can be made with fish or any other seafood, and it's cooked with tomatoes, green peppers, cumin, corn flour, and achiote.
18. Sopa De Mariscada / Siete Mars (Seafood Soup)
Seafood or seven seas soup is a typical Salvadoran fresh seafood soup with seven types of seafood- fish, shrimp, squid, crabs, clams, langoustine, and lobster.
A traditional mariscada is available in a clear broth or made with cream and contains tomatoes and onion and is garnished with cilantro and chives for extra flavor.
If you love a little tang, squeeze some lemons on it.
19. Sopa de Res (Beef Soup)
Beef soup is a traditional Salvadoran lunch soup made by cooking large chunks of beef with corn, carrots, yuca, cabbage, plantains, and zucchini.
It is often consumed with a serving of white rice.
20. Sopa de Gallina India (Wild Chicken Soup)
Wild chicken soup is made using wild or indigenous Indian chicken so it is organic. The soup is mixed with rice, potatoes, chopped vegetables, garlic, herbs, and spices.
It's a popular lunch dish found in local markets, mainly at lunchtime. Most restaurants only serve it on special occasions or during the weekends.
21. Gallo en Chicha (Rooster Soup)
This unique-tasting soup is made with rooster and the local drink chicha. Chicha is a fermented or non-fermented drink that is made from corn, panela, and pineapple. Other soup ingredients may include white wine, prunes, pineapple vinegar, and a variety of vegetables.
El Salvador Desserts
21. Empanadas (Plantain Pastries)
These plantain pastries are one of El Salvador's sweetest snacks.
They can be found in bakeries and bought from food vendors.
The empanadas are soft ground plantain crushed into a paste that is then molded into an oval doughnut-like shape, before being stuffed with vanilla milk custard or beans.
They are served with sugar sprinkled on top.
22. Nuégados De Yucca (Yuca Fritters)
Fritters are a delicious, traditional, sweet food of El Salvador.
You can eat them for dessert or as a side dish.
Yuca fritters are deep-fried and prepared with cassava root, sugar, salt, and oil.
They are served with honey, which is made with panela (unrefined whole cane sugar) as well as water.
23. Salvadorian Quesadilla (Sweet Cheese Sponge Cake)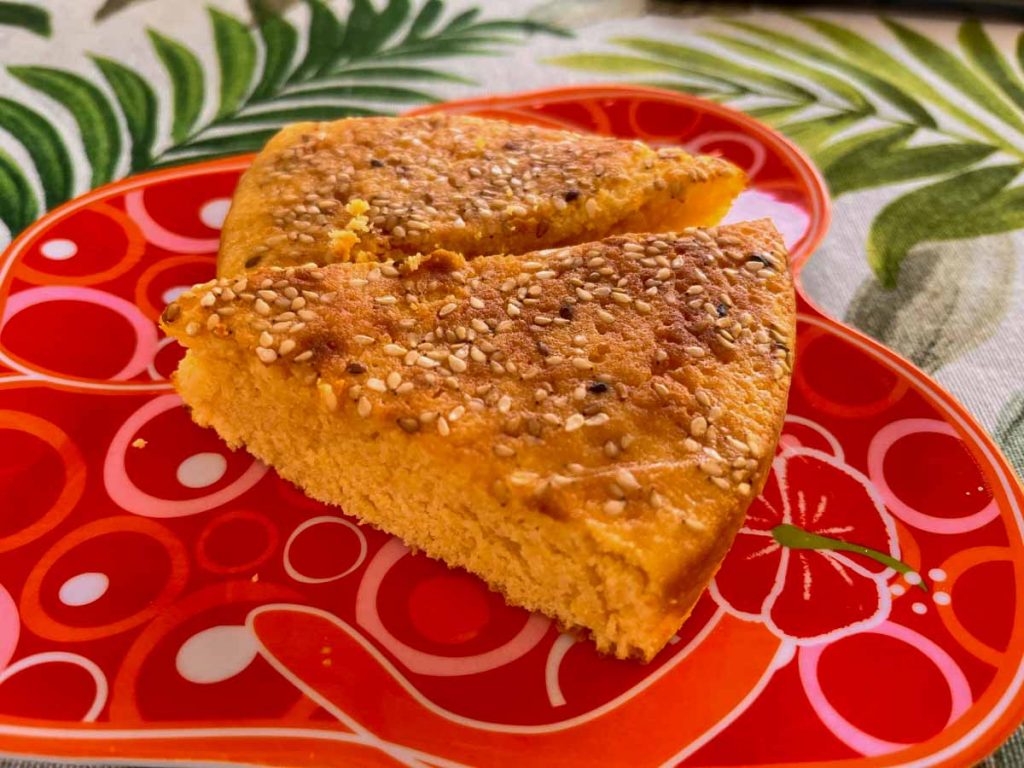 Quesadilla is a delicious dessert cake made with queso fresco cheese, eggs, butter, milk, flour, and sesame seeds.
In contrast to those found in Mexico, the Quesadilla of El Salvador is essentially a pound cake made with rice flour and strong, salty cheese. Ideally, the cake should have a little crunch on the outside and be wonderfully soft on the inside.
It's topped with sesame seeds and is perfect with coffee or hot chocolate.
24. Torrejas (French Toast)
This traditional Salvadoran dish is prepared throughout Semana Santa (Holy Week) but you can get it in restaurants year round.
It's similar to French toast, but with a couple of tweaks.
To make Torrejas, cut bread into thick slices and then dip them into a mixture of milk, eggs, sugar, cinnamon, oil, and salt.
Once each slice is soaked, fry them until golden brown, and then finally coat them in brown sugar syrup.
The difference between French toast and Torrejas is that they are commonly made with Tortas de Yema, which is a native yolk bread that is dense and perfect for soaking in syrup.
The syrup is also made with Dulce de Panela, which is a refined brown sugar from Salvadoran sugar cane.
25. Arroz Con Leche (Rice and Milk)
Arroz con Leche is a simple dessert from El Salvador that has its roots in Spanish cuisine.
This Salvadoran version of rice pudding is made from a simple mixture of rice, milk, and sugar, that is boiled until the rice is soft.
It's served with ground cinnamon on the top and can be eaten hot or chilled.
Its flavor has both sweet and savory notes.
26. Marquesote (Salvadoran Traditional Cake)
Marquesote is a traditional Salvadoran dessert cake. It's cut in long rectangular slices and served with a cup of hot chocolate or coffee.
It's made with flour, sugar, eggs, vanilla, and cinnamon.
The preparation of the marquesote can be time-consuming because the egg whites need to be beaten by hand before being slowly added to the rest of the ingredients.
27. Tres Leches (3 Milks Cake)
Tres Leches is a popular soft cake that you'll find in El Salvador as well as other Central American countries.
The name comes from the recipe, which uses three types of milk; natural, condensed, and evaporated. This combination gives the cake a dense quality, similar to a cheesecake, but sweeter.
These three kinds of milk are mixed with sugar, butter, baking powder, eggs, flour, vanilla, and cream.
Once baked, Tres Leches cake is left to sit and refrigerate for several hours and then served cold. It's often topped with grated chocolate, cinnamon, and cream.
Conclusion
We hope you can see from the selection of Salvadoran foods highlighted here that El Salvador offers a wide variety of different foods to try.
Visit El Salvador and try them, or try making them at home!
If you'd like to know more about where to eat in El Salvador see our post on popular restaurants in El Salvador.