Surf's up Dude! But is it really?

In recent years there has been a lot of hype around surfing in El Salvador, not least because of the government of El Salvador's 'Surf City' initiative to try to turn El Salvador into a mecca for surf tourists.

So what's the score? And should you go?
Does El Salvador Have Good Surfing?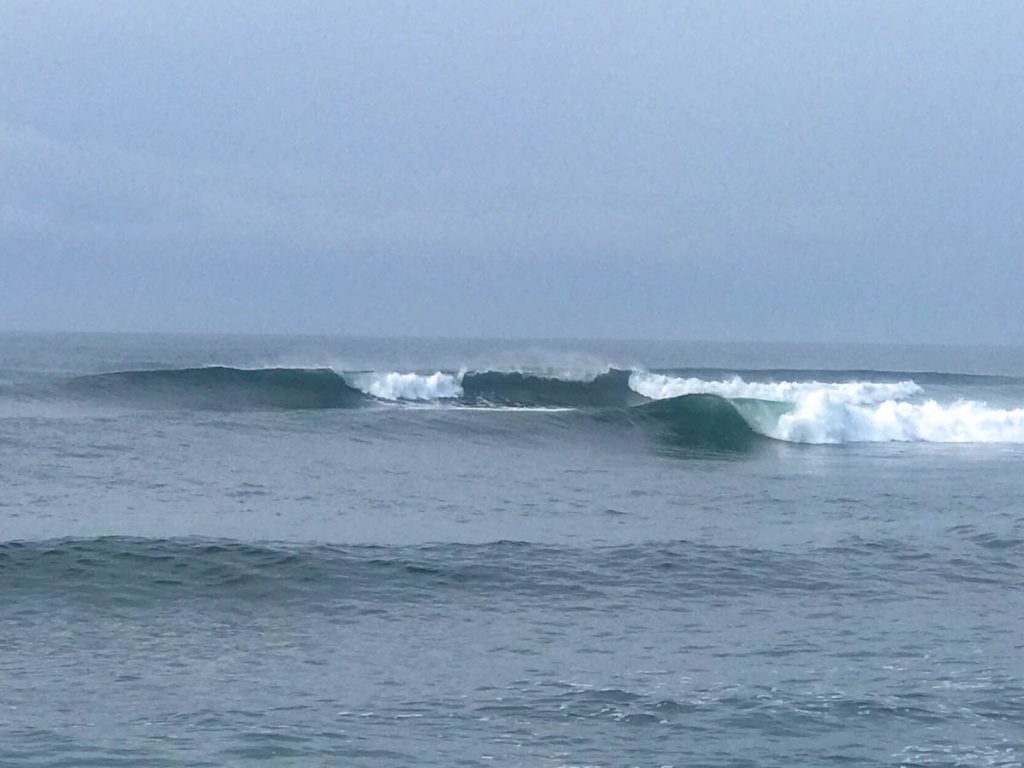 Absolutely, El Salvador's coastline faces the pacific ocean and it has a large swell window. This makes the consistency of its waves above average compared to other locations.
It also has warm water and some of the most renowned right-hand point breaks in Central America.
Sounds good right?
But is it the right spot for your next surf trip?
It really depends on your experience level and what kind of surf trip you enjoy.
Barreling waves? Uncrowded world-class waves? Easy access? Beach break? Point break? Lefts? Rights? Beginner Waves? Longboard? Shortboard?
If you have any of these questions read on…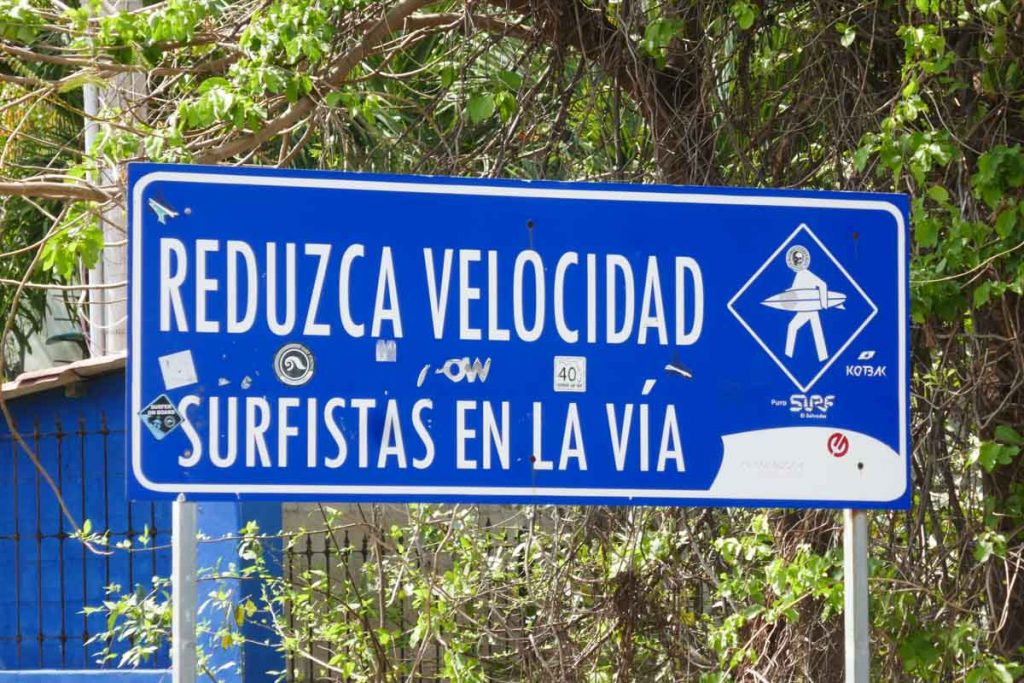 Wave Types
El Salvador's waves mostly fit into two categories. Beach breaks and cobblestone point breaks.
There is no shortage of surf-able beach breaks and they can be awesome, but many are harder to access and there are no renowned sandbanks such as in the south of France at places like Hossegor for example.
This means that the majority of folk who surf in El Salvador do so on its cobblestone point breaks, most of which are rights.
A notable characteristic of the waves is that they don't barrel very often so if you are a barrel hunter, then Puerto Escondido in southwest Mexico is going to be a better option for you.
If you're already in El Salvador, Punta Roca and Punta Mango are your best bets for barrels.
Crowds
Most surfers dream of uncrowded world-class waves, and unfortunately El Salvador can't quite deliver that.
Its most famous point breaks are always busy when they're on, and often when they're not, but it is still possible to score fairly uncrowded OK waves when it's less than stellar.
However, like any other surf destination with a variety of waves, if you are willing to go and stay in more remote locations or take to the road and search, you will be rewarded.
Likewise, the size of the swell is often a crowd thinner, so if your skills and fitness are up to it, you can score when many longboarders and intermediates are beach bound.
Hazards
In The Water
Fortunately, there are few water hazards in El Salvador.
Marine Life
There are no sharks to be wary of, it's really just the occasional jellyfish tentacles that wash in that you need to be wary of. They are just an irritation more than anything and they wash in infrequently. There are also urchins in some spots, but this is rarely something folks talk about.
Wind
More of an irritation than a hazard, the winds turn onshore mid-morning, more or less every day which affects the wave quality, so the most popular times of day to surf are early morning and late afternoon.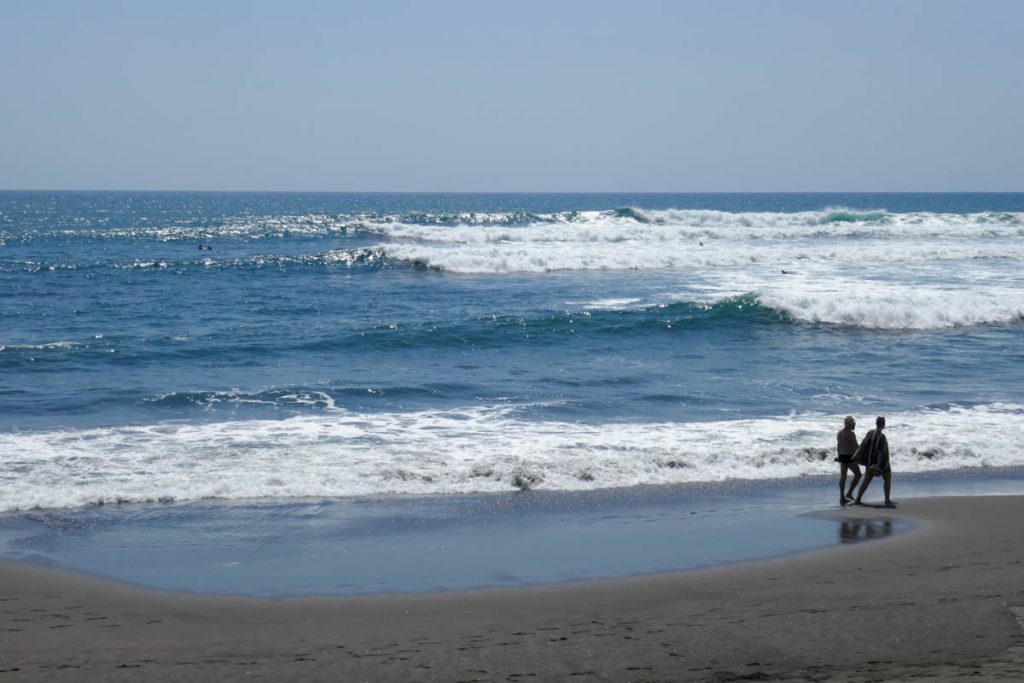 Water Quality
Water quality can be an issue after heavy rains. Most of the point breaks are next to a river so if the water you're surfing in is mud colored then there is a chance you'll pick up a throat infection or something. The water quality of El Salvador's rivers is not great.
Lightening
During the rainy season lightning, while not common, is more frequent, and this led to the tragic death of local surfer Katherine Diaz in 2021.
Reef Cuts
Fortunately, there is no fire coral or anything like that out in the lineup, so booties aren't needed. The reefs are mostly cobblestones, however, it is still possible to get the odd small cut at lower tides, mostly when getting in and out of the lineup.
Sun
Anyone with sun-sensitive skin should wear complete sunblock and consider a surf hat. Surfing in the middle of the day without good protection is a recipe for crispy skin.
Localism
The local surfers in El Salvador are usually very friendly and welcoming to fellow surfers being respectful of the right of way. But like anywhere else, when conditions are really good, or if the locals don't feel like they are getting their share of good waves, then expect to get dropped in on.
Try not to take it personally. There is always a tonne of traveling surfers passing through so the lineup is always changing, and some visitors also set a bad example, dropping in all over the place.
Out Of The Water
In recent years El Salvador has had a lot of publicity due to gang violence in the country, however, as a visiting surfer, you are unlikely to go anywhere you need to be overly concerned for your safety.
If you like to learn more about this subject read out post about safety in El Salvador.
Where Is The Best Surf In El Salvador?
El Salvador Surfing Regions
There are two main El Salvador surfing regions. La Libertad is in the middle of the western coast of El Salvador, and the Costa del Balsamo in the southeast, which is also called Oriente.
The best waves in these two regions are separated by a 3-4 hour drive.
Where Is Surf City In El Salvador?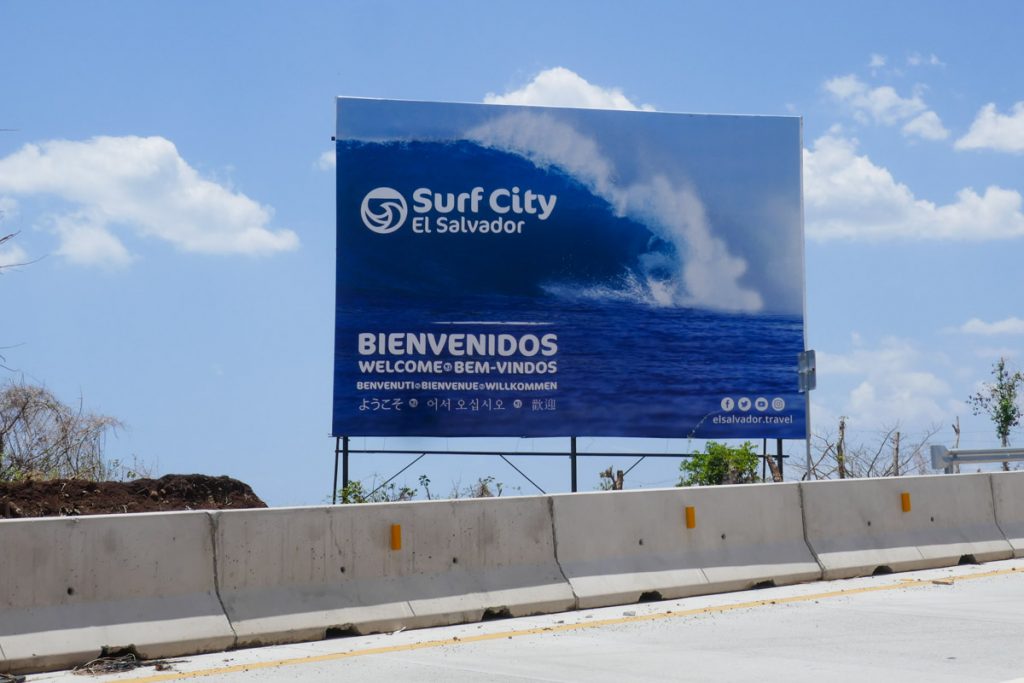 Surf City isn't a specific place as such it's more a stretch of coastline in the La Libertad coastal area of El Salvador.
Surf City is simply the brand name of the government of El Salvador's flagship initiative to increase surf tourism in El Salvador by boosting its surf infrastructure.
The key to this initiative is providing better access to water, electricity, and spot access to existing popular waves, as well as to lesser surfed remote beaches.
The end game is to boost the economy by attracting more visiting surfers, hopefully without making all the spots super crowded!
La Libertad Region
The La Libertad area was the first place explored and developed by surfers and remains the center of the Salvadoran surf scene.
La Libertad is the most popular surf region not just because of its waves, but also due to its close proximity to San Salvador, its cooler temperatures than Oriente, and the significant local communities that provide the necessary labor for expansion.
El Tunco
El Tunco beach known locally in Spanish as Playa El Tunco is a lazy surfer's dream. You should definitely check it out if you're visiting El Salvador. Not least because you can get some surf supplies as it has the best if not the only real surf shop in the country.
The main attraction of El Tunco for surfers is that it offers easy access to several waves within a short walk. It also has by far the most developed surf tourist infrastructure in El Salvador, which gives you more things to do when you're not surfing.
West Coast Surf Spots
The main surf spots are listed below. There are others, but generally, they are less consistent and or lower quality. They are the sort of breaks that on their day can be pretty good.
Punta Roca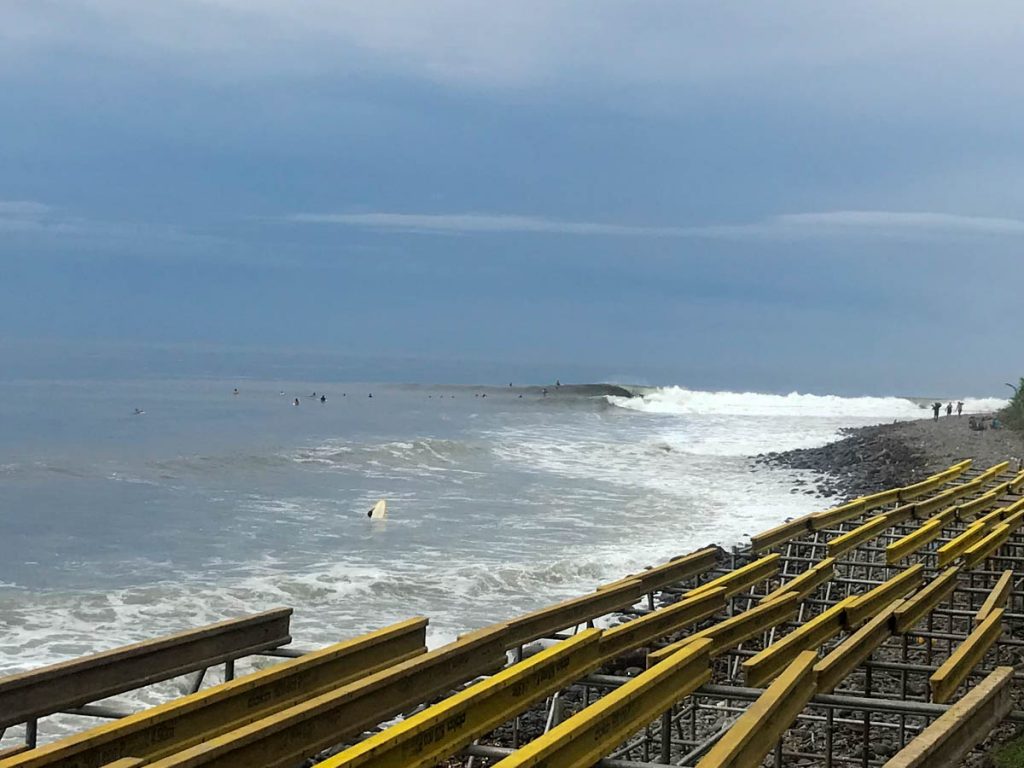 Punta Roca is commonly considered to be El Salvador's best wave.
It's a right-hand point break with several sections. It's more of a high-performance wave than El Sunzal because it has faster, steeper walls.
It's located in La Puerto de La Libertad which is a port area. It's not very developed from a tourist's perspective and most folks don't choose to stay in this area.
Punta Roca is about a 10-minute drive from El Tunco.
You can surf anything here, although if you bring your longboard sit far down the point as it may not have a welcome reception.
El Zonte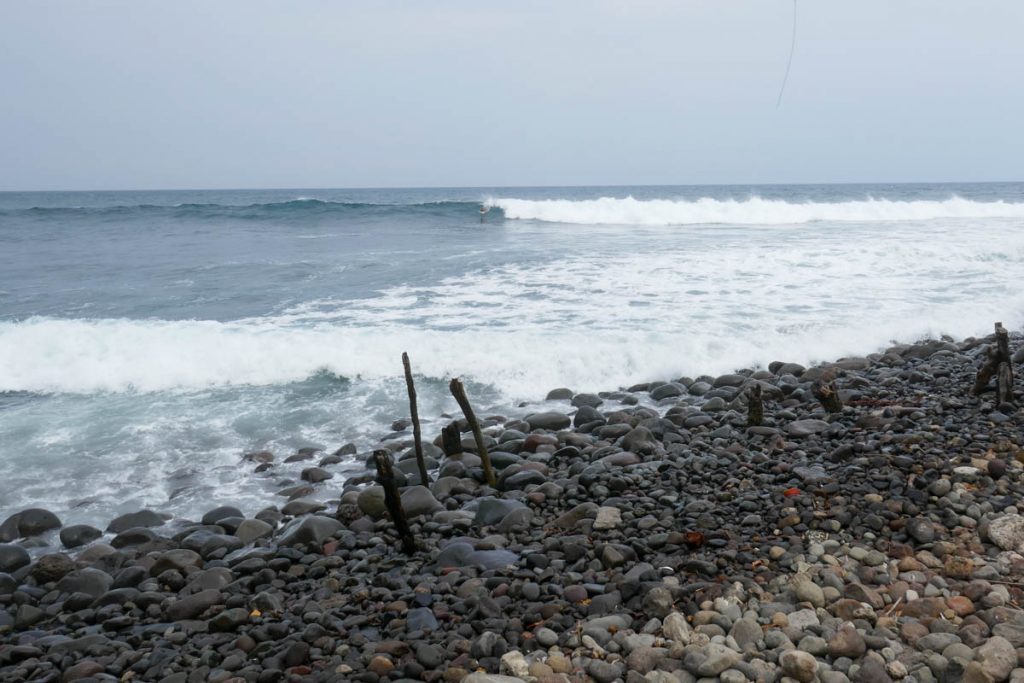 The wave located at El Zonte beach is a medium-length right-hand point break that maxes out at about head height.
It's located in the small surf town of El Zonte, which is less touristy than the El Tunco area largely because the locals have resisted development projects.
There is a mix of places to stay in El Zonte ranging from a few high-end places to backpacker joints.
Playa El Zonte is about a 15-minute drive from Playa El Tunco.
Surf anything here.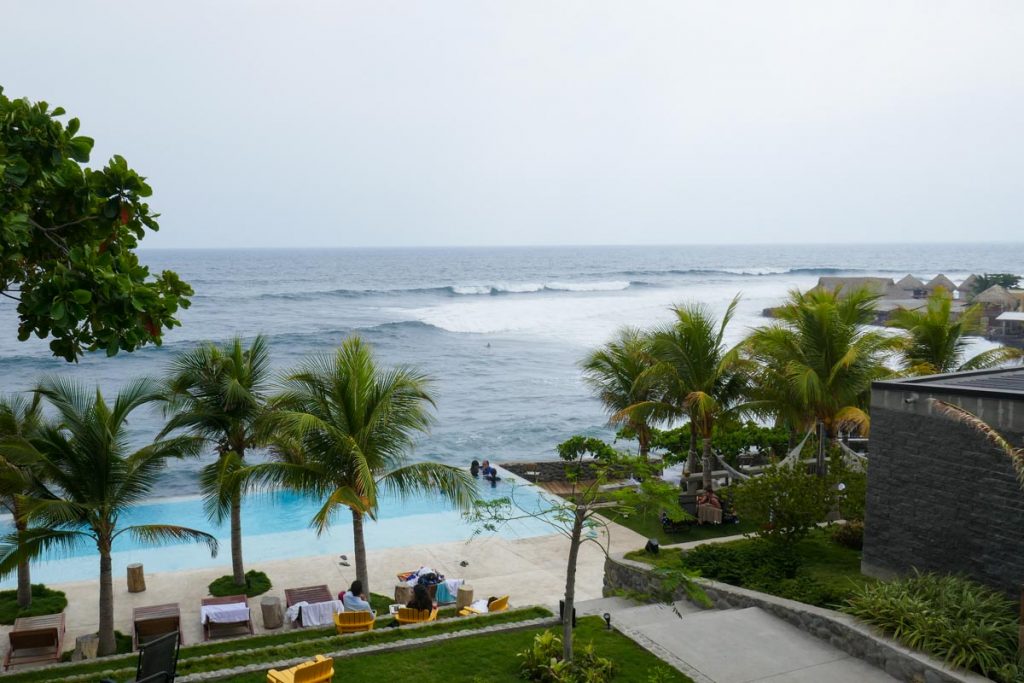 El Sunzal
El Sunzal is the most popular wave in El Salvador largely because it is an intermediate wave that can make the average surfer think they are killing it.
It's a long right-hand point break with a lot of fat sections, and as such, surfers often ride longboards, fishes, and mid-lengths.
It's also popular with beginners and more advanced surfers.
One reason it is so popular aside from the potential length of the ride is that it is a swell magnet and the waves are often larger than at other spots.
This wave changes a lot with conditions.
It's located at El Tunco and is a 5-10 minute walk from the town depending on whether you have to walk over the rocks at high tide.
La Bocana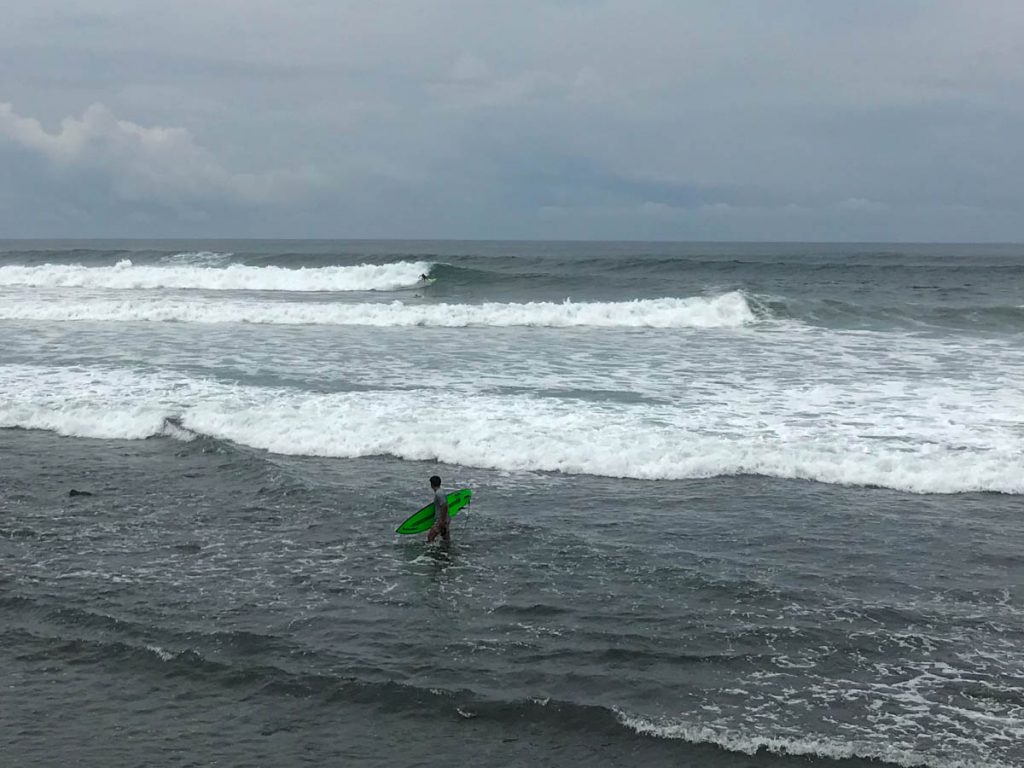 La Bocana is a punchy left-hand point break that breaks at the river mouth to the south of El Tunco beach. There are also shorter rights.
It's a high-performance shortboard wave for experienced surfers with a steep drop and a few top to bottom sections.
It doesn't take many to make a crowd here, largely because it has a small take-off zone.
K59
K59 is a down-the-line right-hand point break that is popular with surf tours and has a surf camp right on the point.
Catching it with few surfers on it can be hit or miss. It's mostly surfed by short-boarders.
Access is down a dirt road which can be tricky if you don't have a 4×4 in the wet season.
Mizata
Mizata has several waves that break on different tides. A short right-hand point break that's best around low tide, a high tide reef break offering short lefts and rights, and a left that breaks on the reef moving onto the beach break.
Mizata maxes out if the swell is overhead.
There is a place to stay right on the point but there are rarely more than a handful of other surfers here.
It's fairly mellow so surf anything here.
Mizata is a very quiet surf town about a 1-hour drive from El Tunco.
South East Coast Region
The southeastern coastline of El Salvador is as rich in waves as La Libertad but it's hotter and has a lot less infrastructure, so generally, it is much less crowded.
Also, the swell is often slightly smaller and a little more inconsistent.
The main hubs of Las Flores and Punta Mango are about a 2.30 hours drive from the international airport.
There are numerous surf camps and other surfer-facing businesses here, but it's still much less developed than El Tunco.
Head here if you're up for the search. There are empty waves to be had if you are willing to go look, either independently or through a tour.
East Coast Surf Spots
Here are the main breaks. There are others.
Punta Mango
Punta Mango is the east coast's big wave spot. It can offer big right-hand barrels on a big swell.
This area is largely untouched by development but there are a few places to stay right in front of the break.
Las Flores
Playa Las Flores is a right-hand point break with a sandy bottom which is unusual in El Salvador.
It's a fun wave for short boarders and long boarders alike.
Where Can I Learn To Surf In El Salvador?
There are a number of good places in El Salvador to learn to surf.
El Sunzal
While Sunzal in El Tunco is not necessarily a beginner's wave, it is still a good place to learn to surf with the help of an instructor. They will guide you in the lineup and push you into some of the wider breaking waves that come in.
La Paz
La Paz is the end section of Punta Roca and it almost always looks better than it is. It's a great beginner wave as it's slow, fat, and peels, and there are rarely crowds.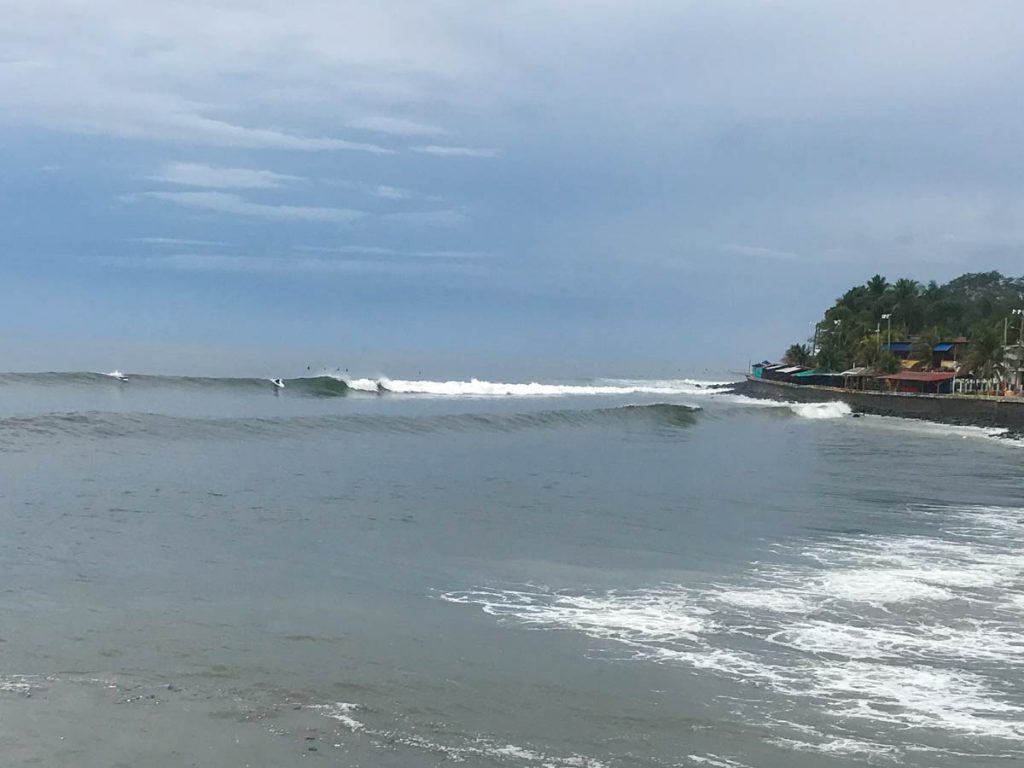 El Zonte
El Zonte is a beginner-friendly wave that is only a short paddle from the shore. There are also well-established facilities for beginners here.
El Salvador Surf Season
El Salvador has two main seasons.
Wet Season
The main surf season stretches from May through to the end of October at which time the swells are at their largest and most consistent. Unfortunately, it's also the time of year when there is the most rain and the strongest mid-day on-shore winds.
The shoulder months of April and November can be good.
Dry Season
The dry season is really December to the end of February and it's characterized by smaller and more infrequent swells. This is often the best time for beginners to visit as the waves are easier, and the weather is sunny with lighter winds.
In March things gradually start to pick up.
Getting There
El Salvador's international airport has a lot of good connections with the USA which makes getting there easier than to some other surf locations in Central America.
From the airport it's about a 45-minute drive to the capital city San Salvador, however, if you are staying in the La Libertad area you can go directly in about 50 minutes.
If you are heading to the southeast then it's a longer 2hr drive. You don't need to go to or through San Salvador.
For either location, the trip is best by private transportation that can usually easy to arrange via your accommodation.
Summary
We hope you can see that El Salvador has a lot to offer visiting surfers.
Surfing El Salvador truly is as simple or as hard as you want to make it.
Should visiting El Salvador be on your bucket list of places to go on a surf trip?
Why not?
If you don't go you'll never know!
Oh, and you should have been here yesterday…