Mayan ruins probably aren't the first thing that comes to mind when you think about El Salvador. Sites like Chichen Itza in Mexico, Tikal in Guatemala, and Copán in Honduras tend to overshadow everywhere else. But if you care to look there are several Mayan ruins in El Salvador that are worth seeing and are overlooked by most travelers.
The big advantage of visiting the Mayan ruins in El Salvador is that they are easy to get to, not too far apart, and unlike the flagship Mayan sites you get to enjoy them largely by yourself.
Let's be clear. You probably wouldn't make seeing the ruins the reason for a trip, but if you're already planning a trip to El Salvador, you should think seriously about adding them to your itinerary.
There's enough for any traveler even remotely interested in history or culture to boost their cerebral data banks.
Especially at Joya De Ceren.
It's one of only 49 Unesco World Heritage Sites and offers a completely different perspective on the Mayan world.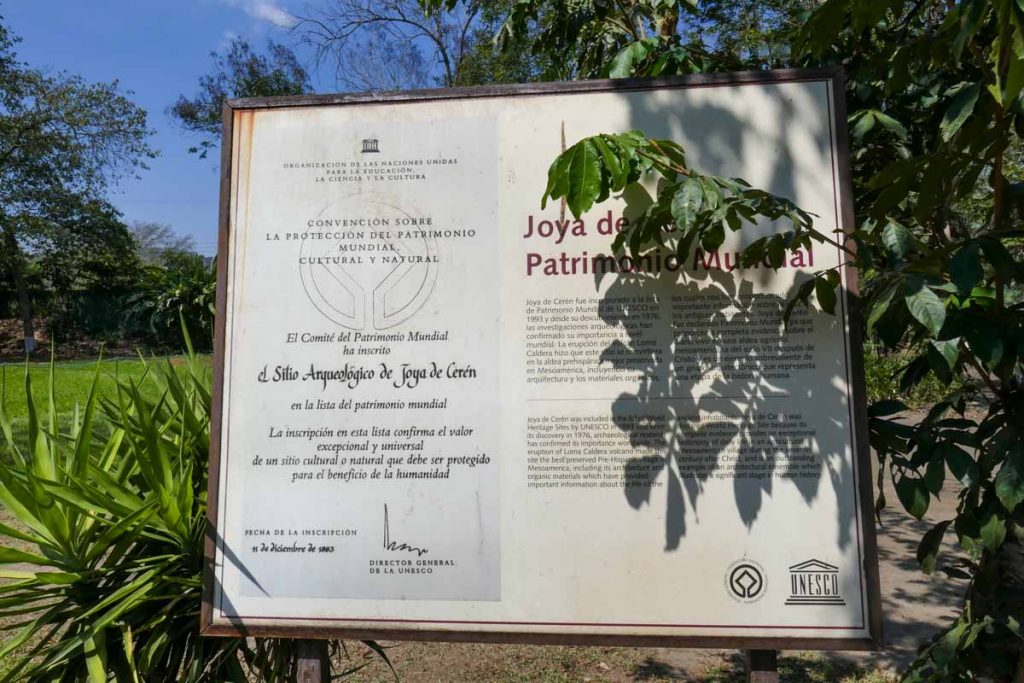 Ruins From Three Time Periods
An interesting fact about the Mayan ruins in El Salvador is that although they are all given the broad title of Mayan Ruins, they cover three different time periods, so you can see a serious slice of history.
Joya De Cerén is pre-Mayan.
Tazumal and San Andrés are Mayan.
Cihuatan is believed to be post-Mayan.
Urban & Business Hubs
A characteristic of El Salvador's ruins is that they give insight into how urban areas and business cities were.
That's because at the height of the Mayan empire what is now El Salvador was right at the southernmost boundary of the Maya kingdom and as such, they were mainly cities built on strategic trading routes with other countries in Central America.
Joya De Ceren & San Andrés Archaeological sites
Joya De Ceren
Discovered by accident in 1976, Joya De Ceren is sometimes referred to as the "Pompeii of the Americas" because, like Pompeii, it provides a rare window to the ancient past where time has stood still.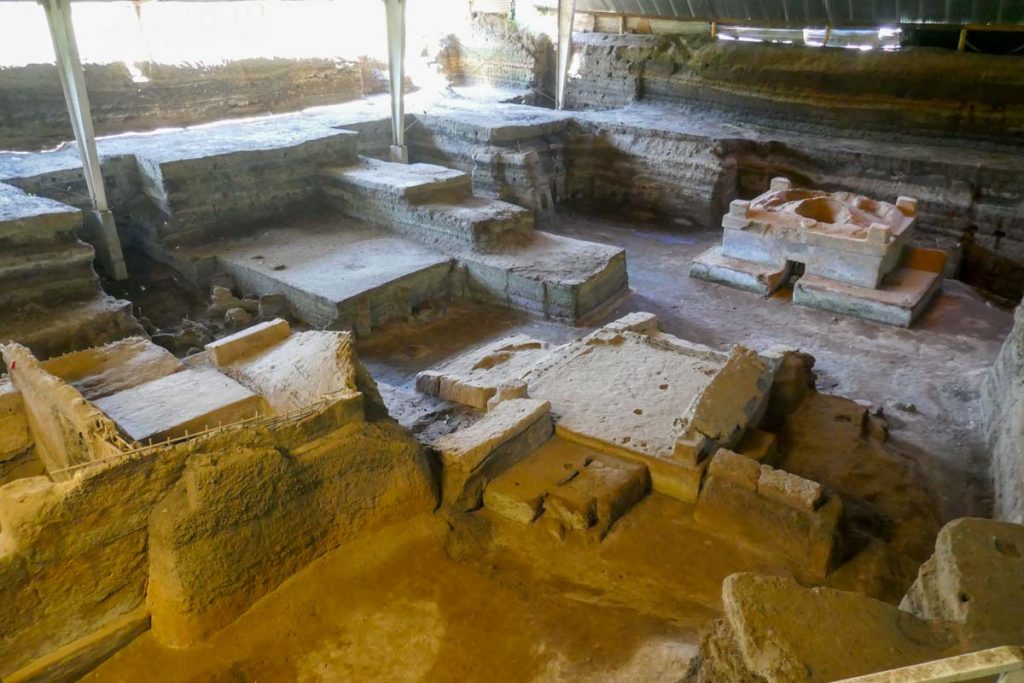 The culprit was a massive volcanic eruption that covered the surrounding valley and much of western El Salvador in two meters (6.5 feet) of volcanic ash, which made the land unlivable for many, many years.
Unlike Pompeii, no human remains were found which means there was enough advance warning for the area to be quickly evacuated before the volcanic eruption of the Loma Caldera (now known as El Bouqeron or San Salvador volcano) covered the area in ash, and created the best preserved Pre-Hispanic village is Mesoamerica.
The people living here were simple manioc and maize farmers and what they left behind gives an interesting view into the daily goings on in an agricultural Mesoamerican village during the seventh century after Christ.
This Unesco World Heritage Site includes 70 buildings (storage facilities, workshops, homes, temples, and a public bath complex.) with artifacts, as well as preserved yuca crops, fruit trees, and herb gardens that were all virtually frozen in time.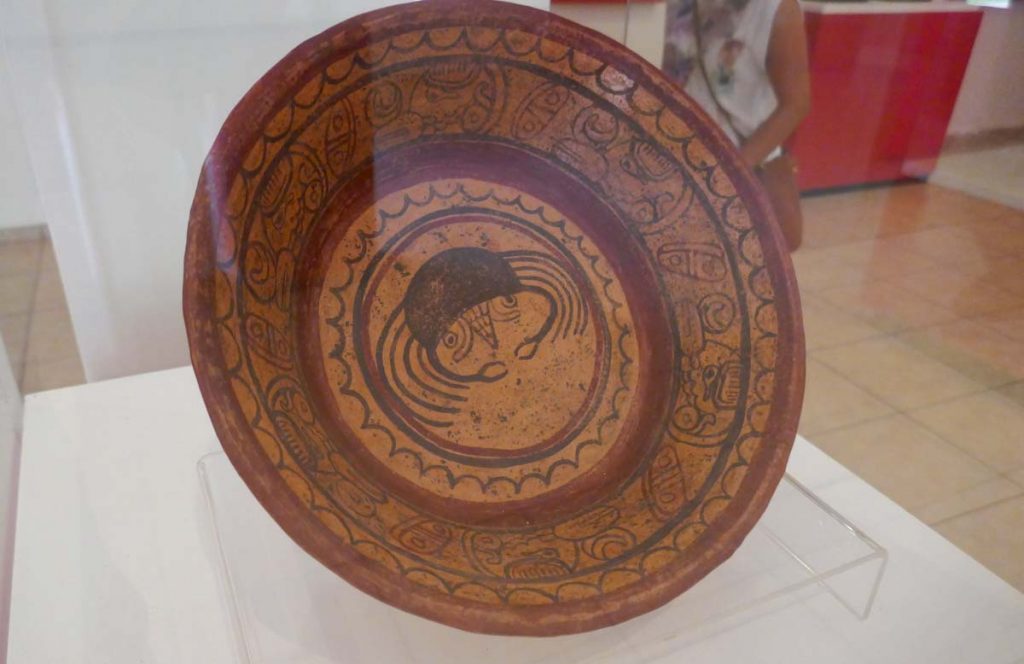 And while it isn't quite the "Pompeii of the Americas", the beauty of Joya De Ceren that makes it worth a visit, is that it offers a totally different perspective to all the other great Mesoamerican ruins.
The problem with flagship sites like Copán and Tikal is that they are all ceremonial. You never actually get a sense of how regular folk like me and you would have lived day to day.
San Andrés
San Andrés is just a few kilometers southwest of Joya de Cerén, in an open field surrounded by simple farms and dense jungle.
The city was once the regional capital of a Maya Kingship and is now one of the principal Mayan ruins in El Salvador.
Only sections of the ceremonial center have been excavated so you need to use your imagination when visiting the site.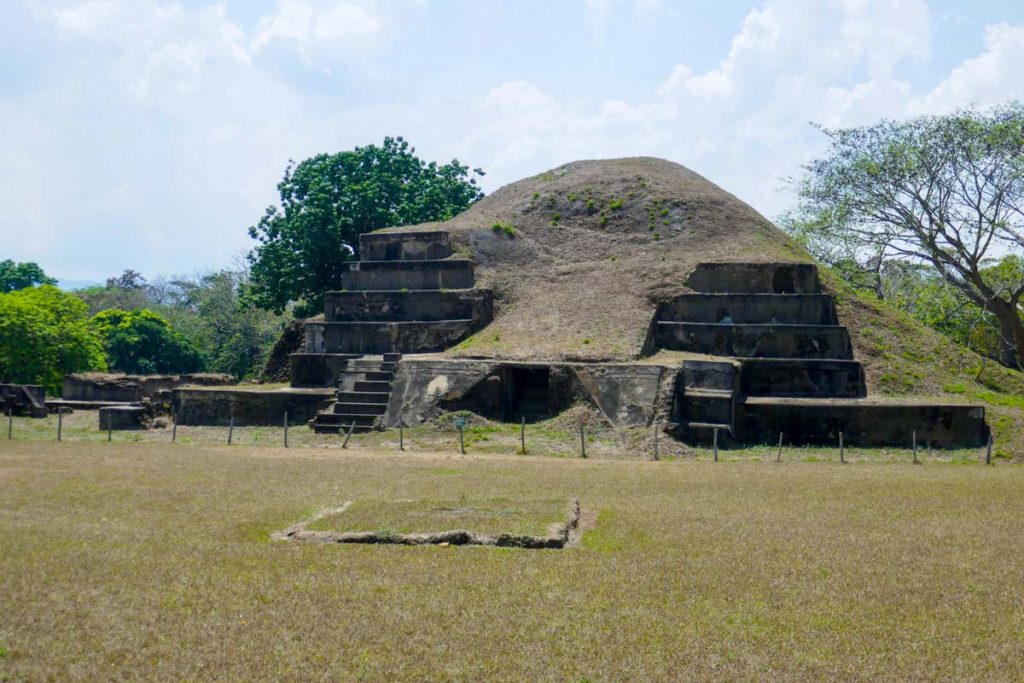 There are seven structures in total to see, including the Acrópolis complex and a seventeenth-century Spanish indigo works, though the tallest pyramid 'La Campana' can only be viewed from a distance.
You can stroll freely around most of the site, which has little natural shade, except around the perimeter which is a popular picnic spot for locals at the weekends.
The small museum is worth a visit and includes a good model of what the city would have looked like in its heyday.
History
The ancient city of San Andrés was the provincial capital in the Zapotitán Valley between the years 600 and 900 AD.
It was built much later than Joya De Ceren when the Zapotitan valley was repopulated after the volcanic eruption that made western El Salvador unlivable.
Like Tazumal and Cihuatan, San Andrés was a trading city. Archaeological evidence suggests that the Maya here traded with tribes from other countries in Central America such as Honduras, Mexico, and Belize.
It is estimated that San Andrés reached its peak and had a population of about twelve thousand people with approximately 350 settlements within the surrounding valley. The fertility of the soil in the Zapotitan valley was an important factor in the development of these agricultural communities.
It's thought that San Adrés was abandoned around the year 1,100 AD, and after this date, the valley was re-occupied by descendants of migrant groups from central Mexico known as Pipiles, who stayed in the area until the Spanish conquest in 1524.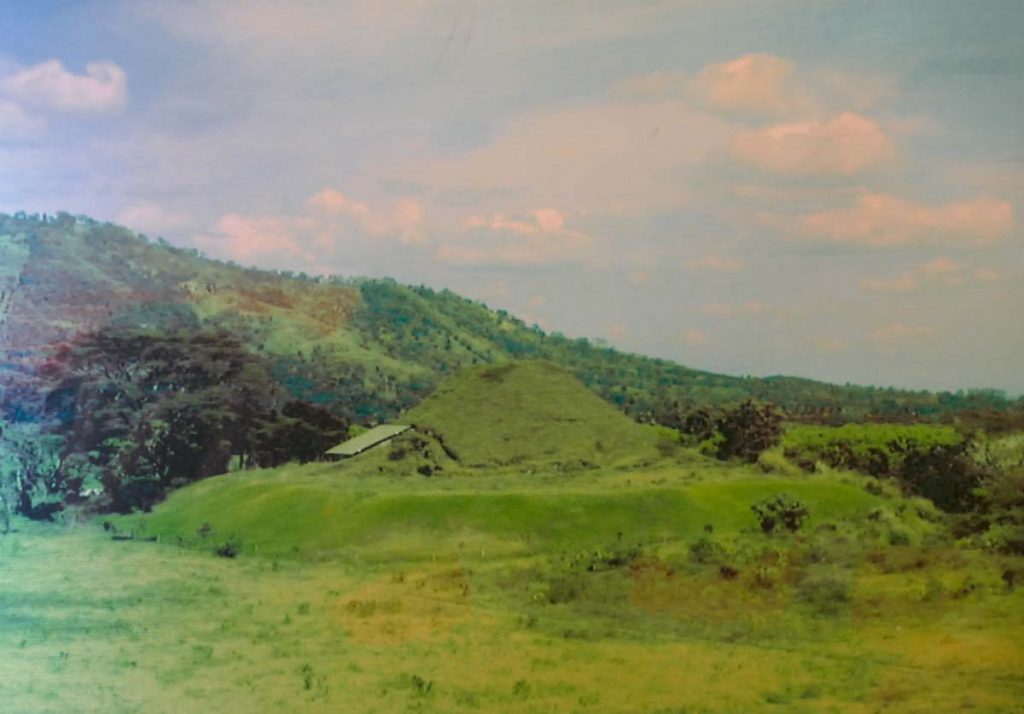 How To Get To Joya De Ceren and San Andrés
Joya De Ceren and San Andres are a five-minute drive apart and both are located about an hour and a half drive from San Salvador.
You can drive, take a bus or taxi or visit them as part of a tour.
How Long Does It Take To See These Sites?
Set aside a morning to see both sites, so probably three to four hours excluding travel.
Tazumal & Casa Blanca Mayan Ruins
Both these sites are close to the city of Santa Ana which is surrounded by other big attractions of El Salvador.
Cerro Verde National Park, Santa Ana, and Izalco volcanoes as well as Lake Coatepeque are all close, so if you plan to visit any of these it really is very easy to add a trip to Tazumal and Casa Blanca to your itinerary.
Tazumal Archaeological Site
Tazumal is often regarded as El Salvador's most impressive pre-Colombian site because it has the best preserved Mayan ruins in El Salvador, although as excavation continues in Cihuatan this view may change as only 1% has been excavated and none of Cihuatan is in urban areas.
There are metal artifacts found at Tazumal that date back to the 8th century AD which makes them some of the earliest metal artifacts reported in Mesoamerica.
Visiting Tazumal itself is a little weird because it's the stark contrast between old and new.
The Tazumal site is surrounded by a low metal fence that sits right next to the road filled with street vendors. You basically park right in front of it.
It feels like a bit of clash and almost like the site has been picked up and transported there a la 'Star Trek'.
History
The Tazumal complex is made up of a series of west-facing ancient buildings, that include structures such as pyramids, tombs, workshops, ball court, and a complex drainage system.
This is largely because Archaeologist Stanley Boggs saved the site from increasing destruction during the 1940 and 50s.
The story goes that locals were using rocks and soil from the Tazumal complex to create new buildings and Biggs stepped in with a plan to raise awareness and restore what was left of the site.
Somewhat unfairly, Boggs was heavily criticized because he used cement during the renovation of Tazumal, which is a faux pax in archaeological circles.
Tazumal was inhabited from the Classic period through to the Postclassic and the site had links as far afield as central Mexico, the northern Yucatán Peninsula, and the city of Copan in Honduras.
Casa Blanca Mayan Ruins
Casa Blanca is a smaller site close to Tazumal that's just outside of Chalchuapa town in Santa Ana. It's called Casa Blanca after a coffee plantation that was located on the site when it was discovered.
Casa Blanca is the smaller part of the larger Chalchuapa Archaeological Zone, while the larger part is Tazumal. Unfortunately, much of the ruins in this whole zone have been buried under urban development in the area, which happened prior to any conservation efforts.
Casa Blanca has three pyramids, two of which have been partially restored. There are three other smaller mounds that combine to make up the archaeological park covering about 15 acres/6 hectares situated alongside Laguna Cuzcachapa. There is also a museum that also includes historic items from the Spanish occupation.
How To Get To Tazumal & Casa Blanca
You can drive, take a bus or taxi or visit them as part of a tour.
Both ruins are located in and around the small town Chalchuapa, which is just a 20-minute drive from Santa Ana.
Chalchuapa is located about 37 miles (60 km) west of the capital San Salvador, which translates into approximately a one-hour 40 min drive.
How Long Does It Take To See These Sites?
Set aside a morning to see both sites, probably two to three hours excluding travel.
Cihuatan Archaeological Site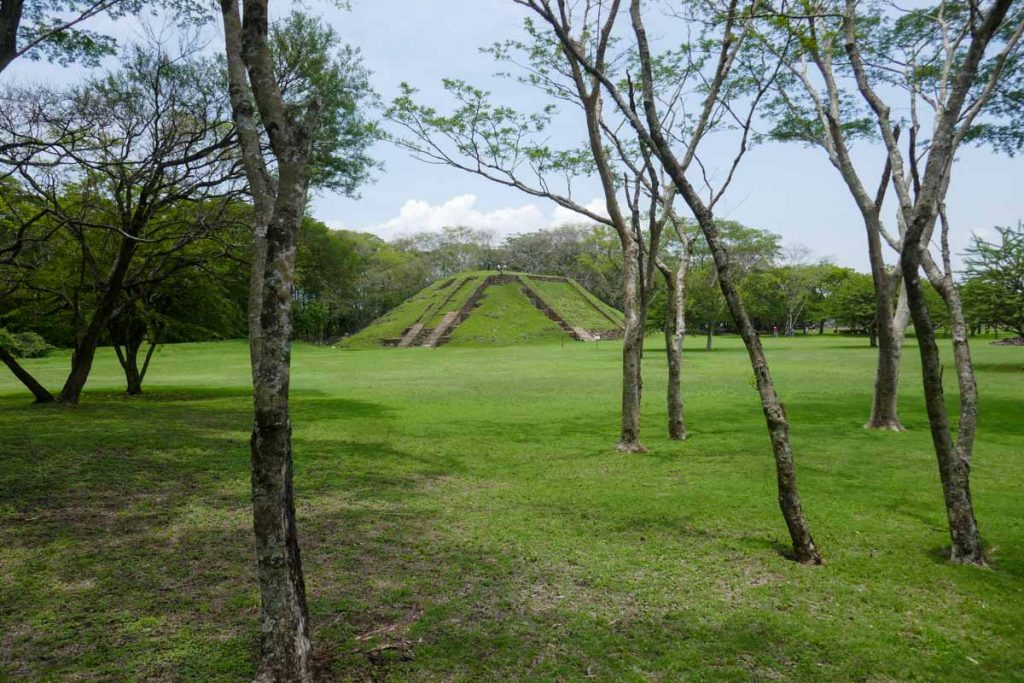 Cihuatan is a little-known archeological site in central El Salvador, largely because it's only been open to the public since November 2007.
The site spans around three square kilometers and prospered between 980 AD and 1200 AD.
Cihuatan is thought to have been established after the Maya kingdom collapsed and all the major cities in the surrounding region were abandoned, which caused a shift in the trade routes in the area.
The center of the site is urban and includes pyramids, two ball courts, as well as temples. One temple is believed to be a palace.
It is thought that Cihuatan was abandoned because it was destroyed by a massive fire because there are a large number of belongings left behind.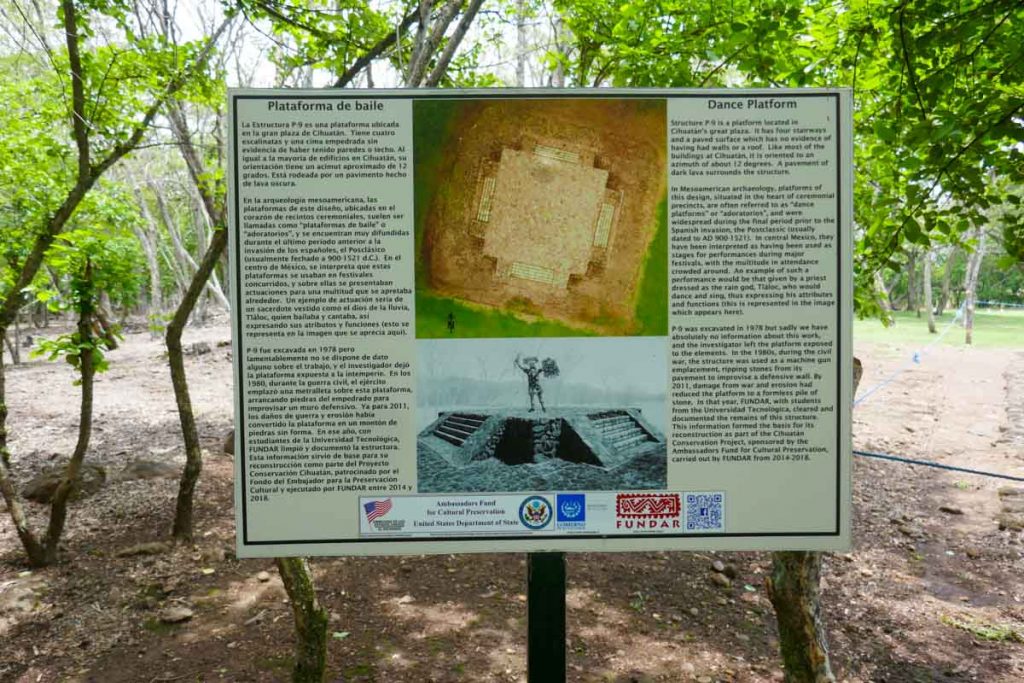 How To Get To Cihuatan
It's about a 1 hour and 20 minutes drive north of San Salvador the capital city of El Salvador.
Other Major Ruins Accessible From El Salvador
Copan
Although the Copan ruins are in Honduras they are easily accessible from El Salvador and should be considered if you have not seen one of the big Mayan sites before.
They are impressive and well worth the trip.
You do need to overnight in Copan, but with your CA-4 visa, you don't need to fart around with additional permits, etc, and can cross a land border into Guatemala, Honduras, and Nicaragua with little fuss and bother.
In the times we live in you may need to have proof of a COVID 19 vaccination so that is something worth looking into.
How To Get To Copan:
It's approximately five hours drive from San Salvador or three and half hours from Santa Ana.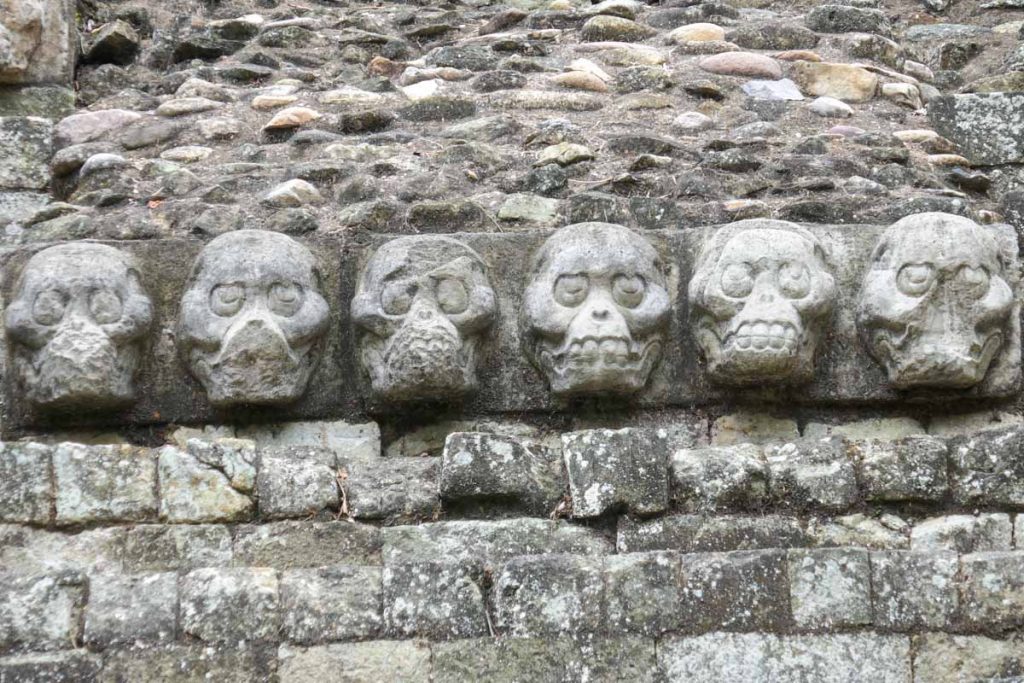 Tikal
If you are interested in Mayan ruins we would also recommend Tikal in Guatemala as the ruins are even more impressive than Copan. However, they really are a stretch to get to from El Salvador unless you are traveling onwards into Guatemala anyway.