What Is Alguashte?
Alguashte is a versatile Salvadoran pumpkin seed seasoning that can be used in both sweet or savoury meals.
It is believed to have Mayan origins because pumpkin seeds have been consumed by the Mayans since ancient times.
Today, it is commonly added to many Salvadorian foods, and street vendors in El Salvador often offer it as an addition to snacks and food dishes.
What Is Alguashte Made Of?
Alguashte is simple to make using just two ingredients, toasted ground pumpkin seeds and salt but it can also be bought ready-made.
Use it to add a deep earthy, nutty flavor to everything from fresh fruit and vegetables to savory dishes.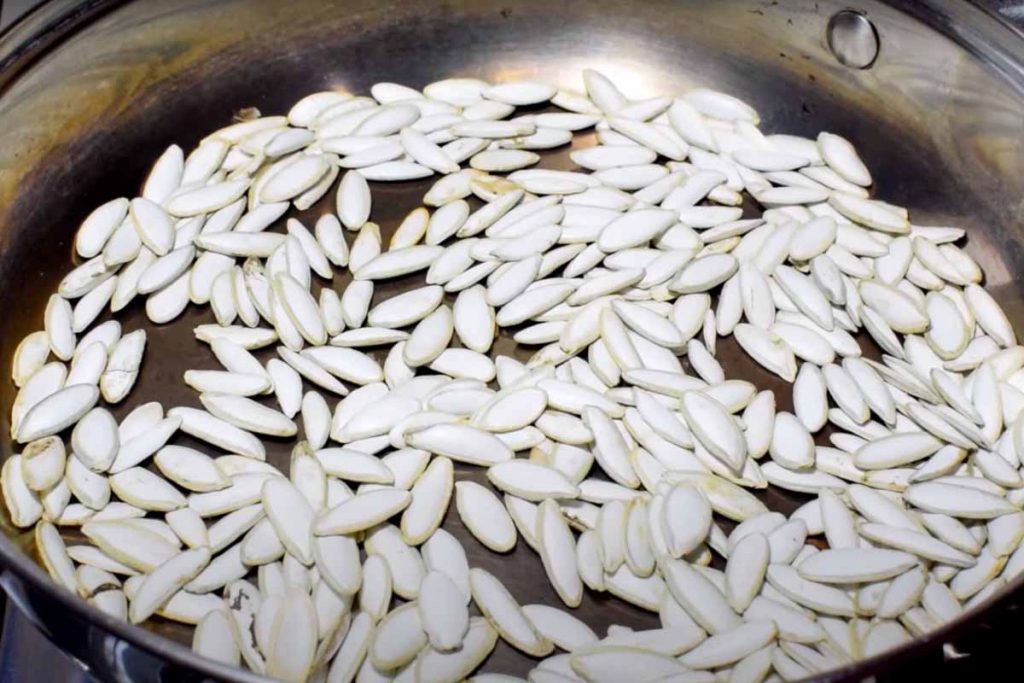 Alguashte Recipe Ideas
Sweet Dishes
Alguashte is great used as a condiment for fresh-cut fruits like mangoes both ripened and unripe when they are green (mango verde), and other tropical fruits such as jicama and oranges. If you want to get more adventurous try adding lime and hot sauce as well.
It also works well on vanilla ice cream and popcorn, and it's a key ingredient in Atol Chuco a traditional drink from El Salvador.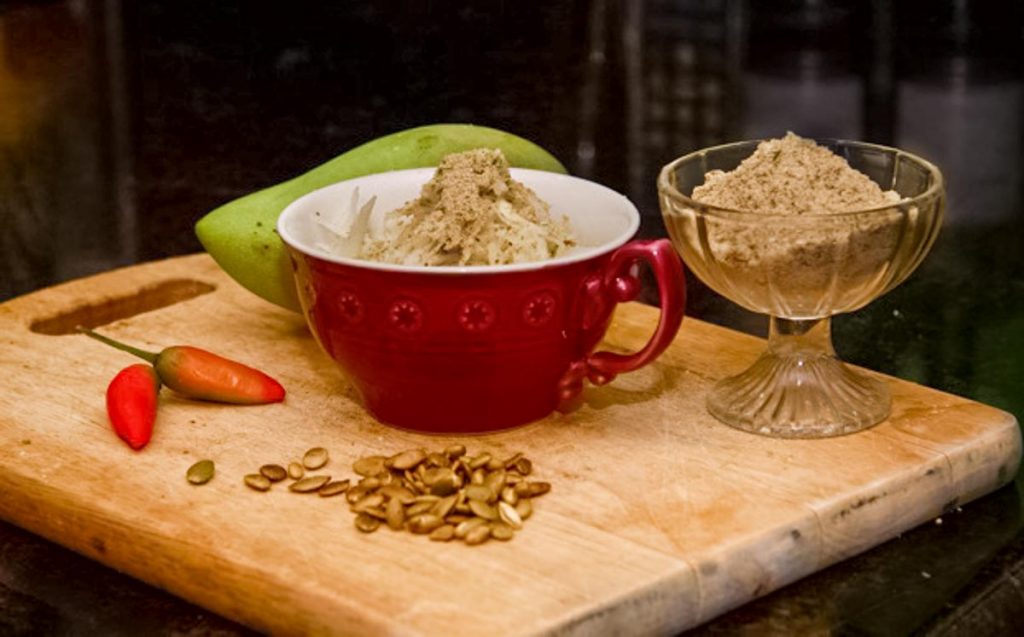 Savoury Dishes
The aromatic, nutty ingredient is also used in many savory Salvadoran dishes. The powder is sprinkled over a variety of dishes and ingredients such as crab, seafood stew, chicken, scrambled eggs, and even iguana. It is also often used as a thickener in soups and gravies.
What Makes Alguashte Taste So Good?
The varieties of pumpkin seeds used for alguashte are typically either from ayote or pepian.
You may find it hard to find out which type of pumpkin seeds you have, but don't worry. Any type will do as long as they still have a husk on.
The key is to great tasting Alguashte comes down to three things:
The seeds need to be ones with a shell on – the husk, that's because the husk adds a more complex flavor than shelled seeds do.
Toasting the seeds to a deep golden brown color brings out all of their untapped flavor.
Finally, sifting the alguashte through a strainer removes any stubborn fibrous bits.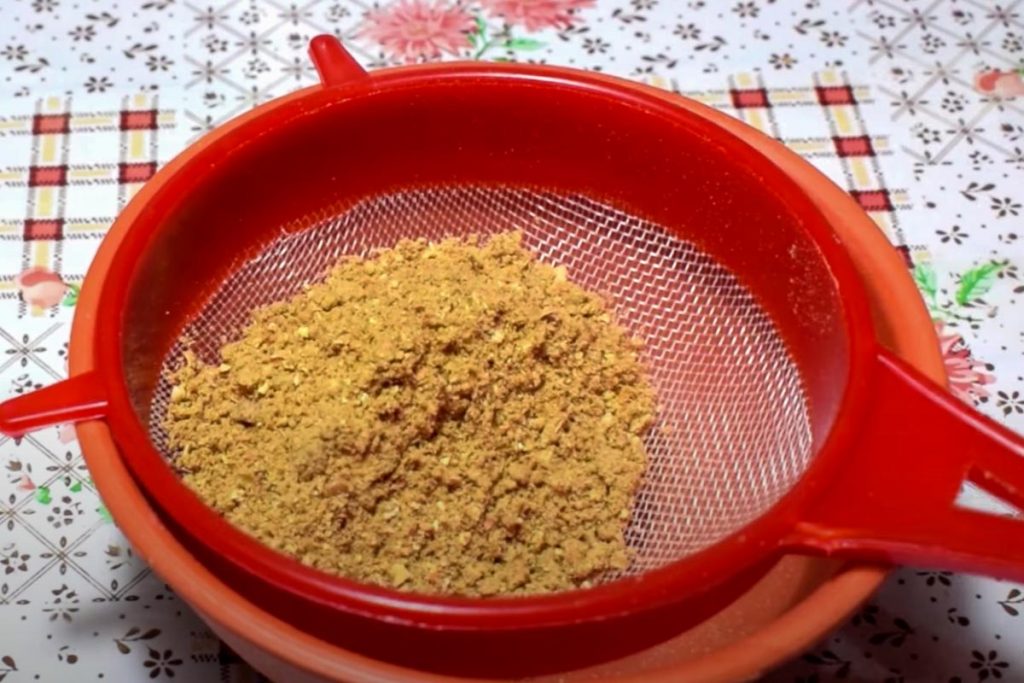 Where To Buy Alguashte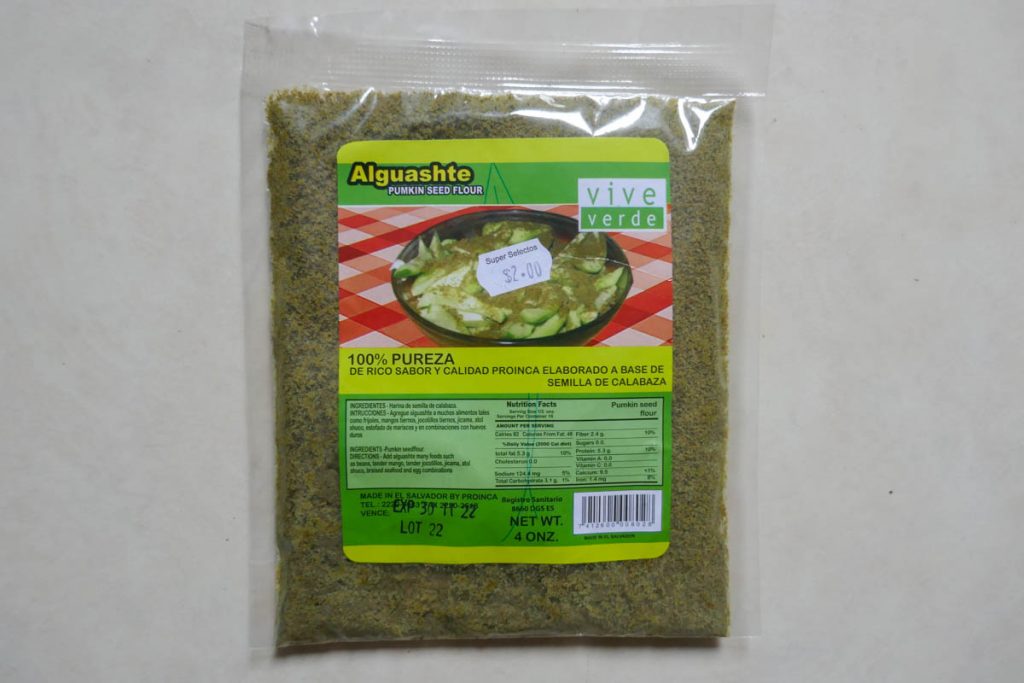 In El Salvador, it is easy to buy alguashte in the supermarket. At the time of writing a 4-ounce bag cost $2.
Alguashte Nutritional Facts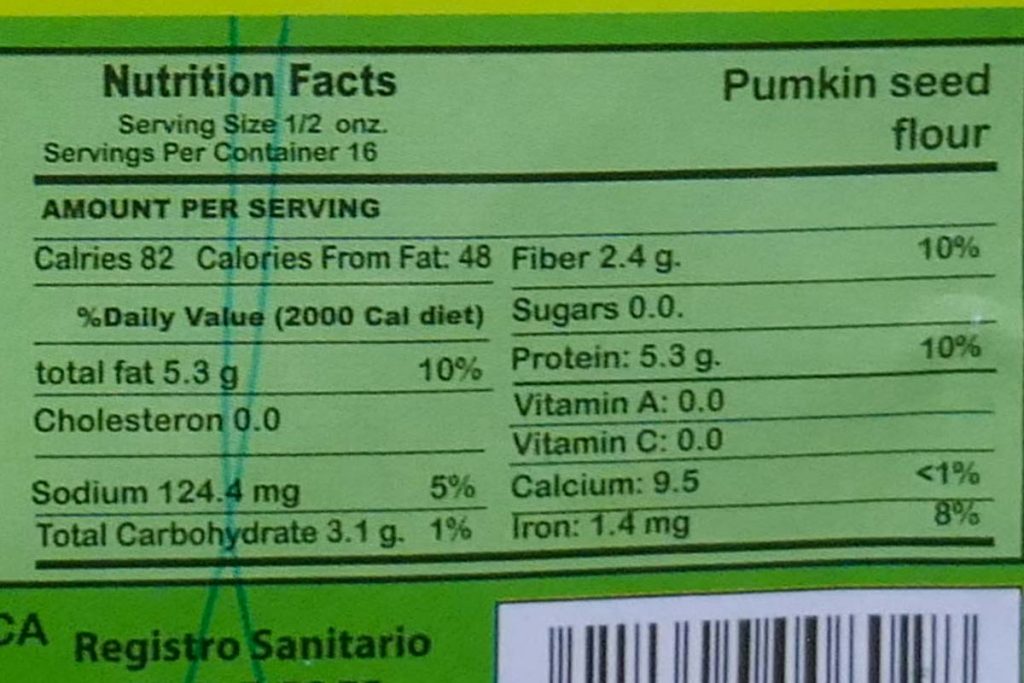 Nutritional label for a 1/2 ounce serving of alguashte.
Ingredients
1/2 cup hull-on pumpkin seeds (1 1/2 ounces or 45g)
2 teaspoons kosher salt (0.28 ounces or 8g)
Instructions
How Do You Make Alguashte?
Step 1.Toast The Pumpkin Seeds
Use a medium stainless-steel or cast iron skillet to the toast pumpkin seeds over medium heat. Stir and toss them frequently, until seeds have browned lightly in spots and have a lightly roasted aroma after about 5 minutes. Then transfer the seeds to a small plate or bowl and allow to cool for about 5 minutes.
Step 2.Grind And Sift
Use a spice grinder or a high-powered blender to grind the toasted pumpkin seeds to a fine powder. Then use a fine-mesh strainer over a bowl to sift the powder to remove any larger fibrous pieces. Regrind if needed, then mix the powder with salt until it is fully blended in.
Step 3. Storage
You can store Alguashte in an airtight container at room temperature for up to 5 days.