El Salvador is magical place, so where is it and what are the common misperceptions about the country?
Common Misperceptions About El Salvador
Is El Salvador Part Of USA?
El Salvador is not part of the USA although it is easy to see how some folk might think that. El Salvador does officially use the American dollar as one of its' currencies and there is another Spanish-speaking territory that is an unincorporated part of the USA – Puerto Rico.
Also, there are strong ties between El Salvador and the United States. During the Civil War in El Salvador during the 1980s, many Salvadorians emigrated to the USA and remain to this day.
Is El Salvador A Part Of Spain?
El Salvador is not part of Spain although it used to be back in the early sixteenth century.
Spanish conquistadors took several attempts to overcome the indigenous Pipil people before eventually bringing the area under control in 1825.
El Salvador then remained under Spanish rule until 1821 when Mexico gained independence as the First Mexican Empire. At this time El Salvador and the other Central American provinces declared their independence from Spain and officially became part of the Mexican Empire.
Is El Salvador A Part Of Brazil?
Searching online it's quite easy to get confused between El Salvador the country, San Salvador the country's capital city, and Salvador a city in Brazil. Salvador in Brazil is completely unrelated to El Salvador.
Where Is El Salvador Located?
The country of El Salvador is officially called the Republic of El Salvador and it is located at:
Latitude: 13° 48′ 10.78″ N
Longitude: -88° 54′ 19.21″ W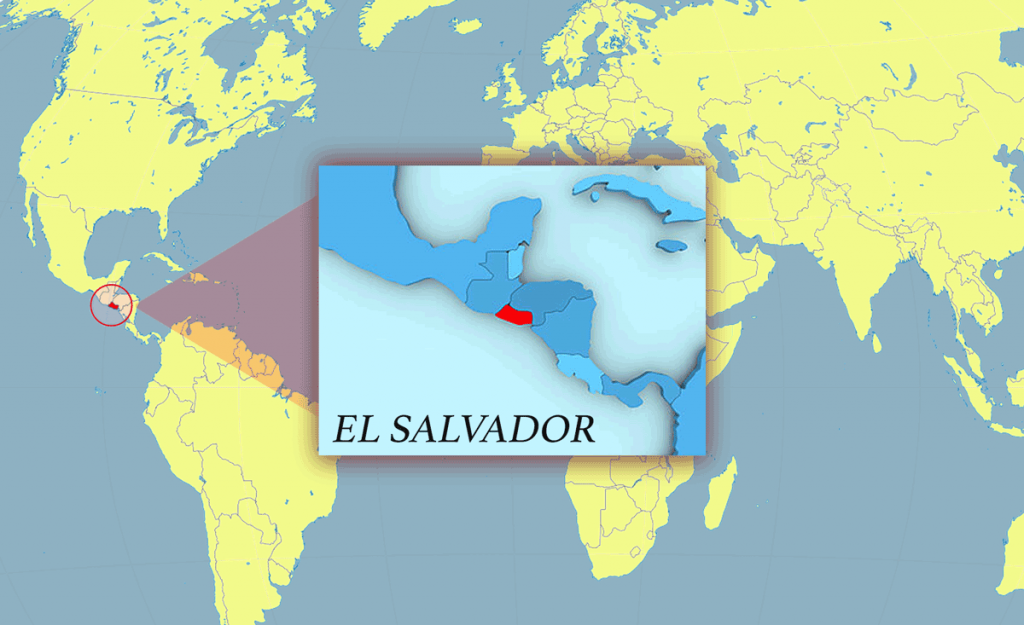 El Salvador's location on a world map depends on your starting point, but generally, it's easiest to look for Latin America and then look upwards, or look for a big country like Mexico and then look downwards.
Doing either of these will lead you to Central America and El Salvador.
El Salvador is the smallest country in Central America, but it is also the most densely populated country with a population of approximately 6,500,000 people.
Where Exactly Is El Salvador Located In Central America?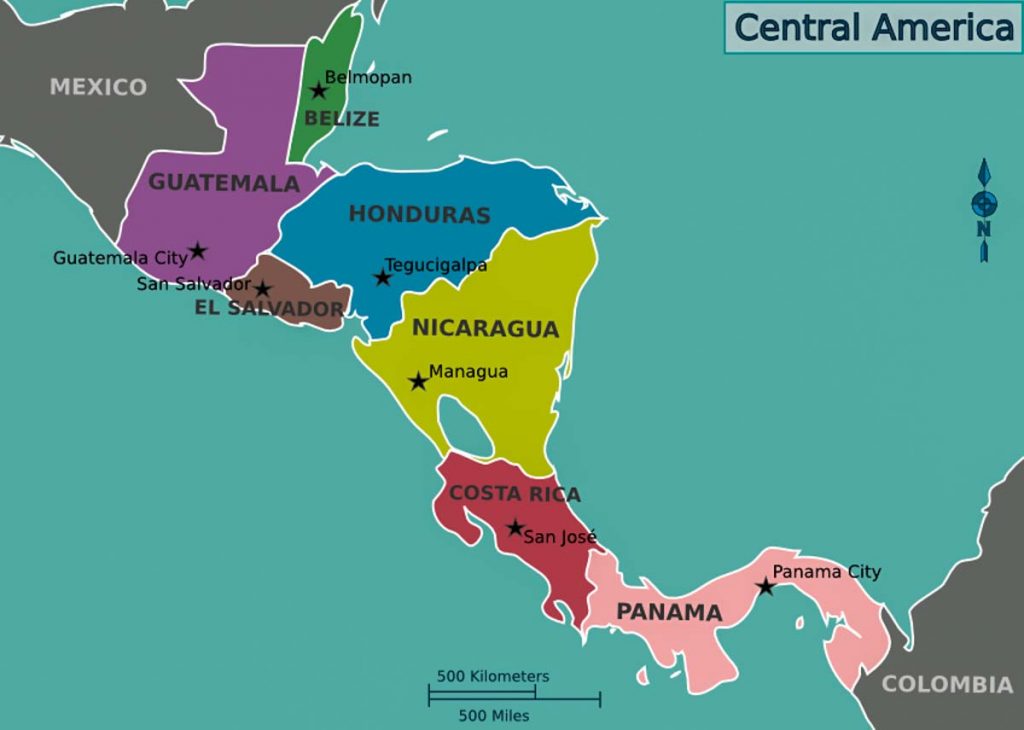 As you can see from the map of Central America above, land El Salvador is the only Central American country that doesn't have a Caribbean coastline. Instead, the Pacific Ocean makes El Salvador's southern border, which has roughly 300 Kilometers (186 miles) of coastline.
El Salvador's bordering countries are Honduras to the northeast and Guatemala to the northwest.
Topography Of El Salvador Map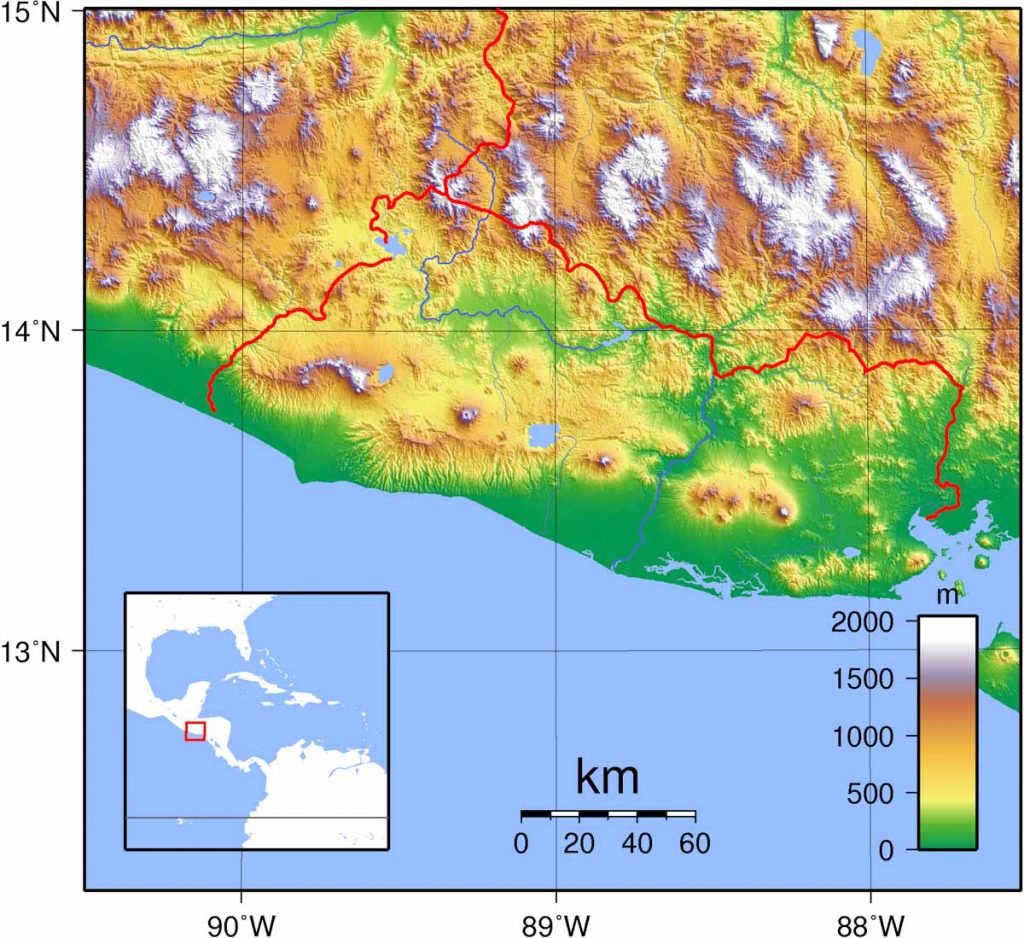 As you can see on the topographic map of El Salvador, the country has a lot of land at low elevations shown in green on the map. This runs along the coast and inland, especially towards the south of El Salvador.
The points of high elevation shown in white are mostly the tops of El Salvador's many volcanoes. The exception is Cerro El Pital – the highest point in the country, which is situated on the Honduras border, at an elevation of 8,957ft (2730m). Cerro El Pital is the only El Salvadorian part of the Sierra Madre Mountains that runs along the entire northern border with Honduras.
El Salvador has many small rivers the most significant being the Lempa River, which originates in the mountains of Guatemala, then flows eastwards crossing a part of the Honduras border before turning south through the Central Highlands and across the central plateau before it empties into the Pacific Ocean.
El Salvador also has a lot of lakes. The three best known are Lake Ilopango, Lake Coatepeque, and the large Cerron Reservoir, known locally as Lake Suchitlan.
Political Map Of El Salvador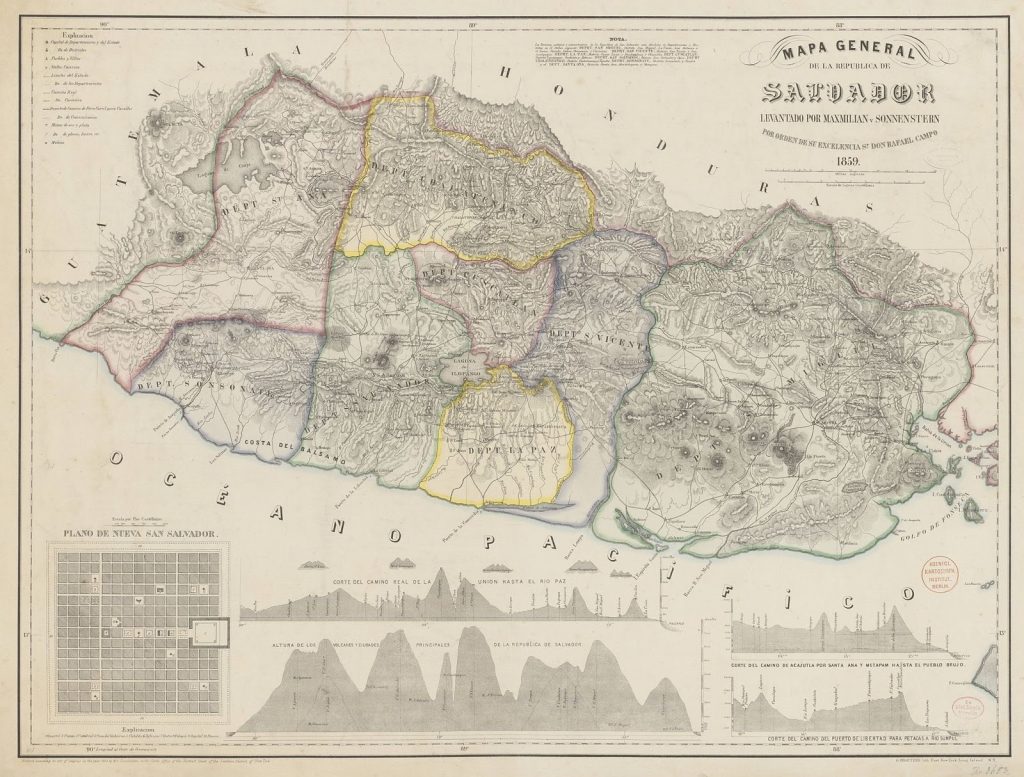 As this historic map above shows, El Salvador was originally divided into eight different Departments, which are administrative zones. As time went on this changed to the current figure of 14 Departments as shown in the image below. These 14 Departments are depicted as laurel wreaths on the national flag of El Salvador.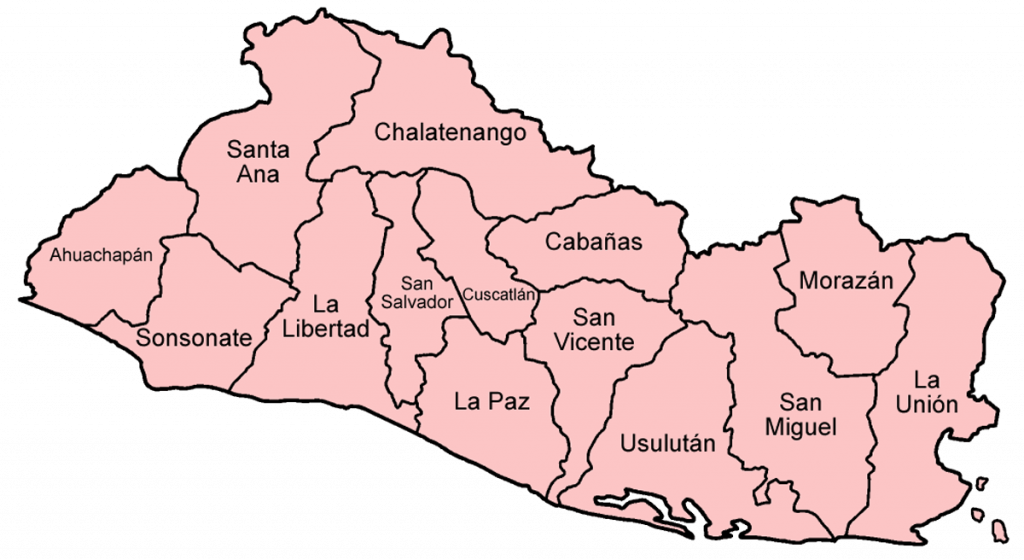 The 14 Departments of El Salvador are:
Ahuachapán
Cabañas
Chalatenango
Cuscatlán
La Libertad
La Paz
La Unión
Morazán
San Miguel
San Salvador
Santa Ana
San Vicente
Sonsonate
Usulután
What Are The Major Cities In El Salvador?
The major cities in El Salvador by size are:
San Salvador – capital city and largest city
Soyapango
Santa Ana
San Miguel
Mejicanos
Santa Tecla
Apopa
Delgado
Sonsonate
San Marcos
Usulután
Cojutepeque
Modern Day Map Of El Salvador
What better modern-day map of El Salvador than Google maps? Please use the El Salvador map below to learn more about El Salvador as well as plan your trip.