El Salvador is a country with a steep history of seismic and volcanic phenomena that has created some fantastic natural attractions. Lake Ilopango is one such attraction but it's one that many tourists miss out on.
Why Visit Lake Ilopango?
The beautiful Ilopango caldera is stunning and sits with the mighty San Vincente volcano as its backdrop. And while it's too big to have the jaw-dropping wow factor of Lago de Coatapeque, lake Ilopango is easier to visit from San Salvador and offers something for everyone. Be it stunning views, unspoiled nature, tranquility, or the many water-based activities available for families and adventurers.
It is the largest natural lake in El Salvador and it sits on an active volcano!
The Lake area is easy to access by car and bus and has a tourist visitor center that offers a variety of options for spending the day exploring and relaxing with family and friends.
Visitors rate their experience as 4.5 out of 5 on google reviews and 4.5 on trip advisor (2022)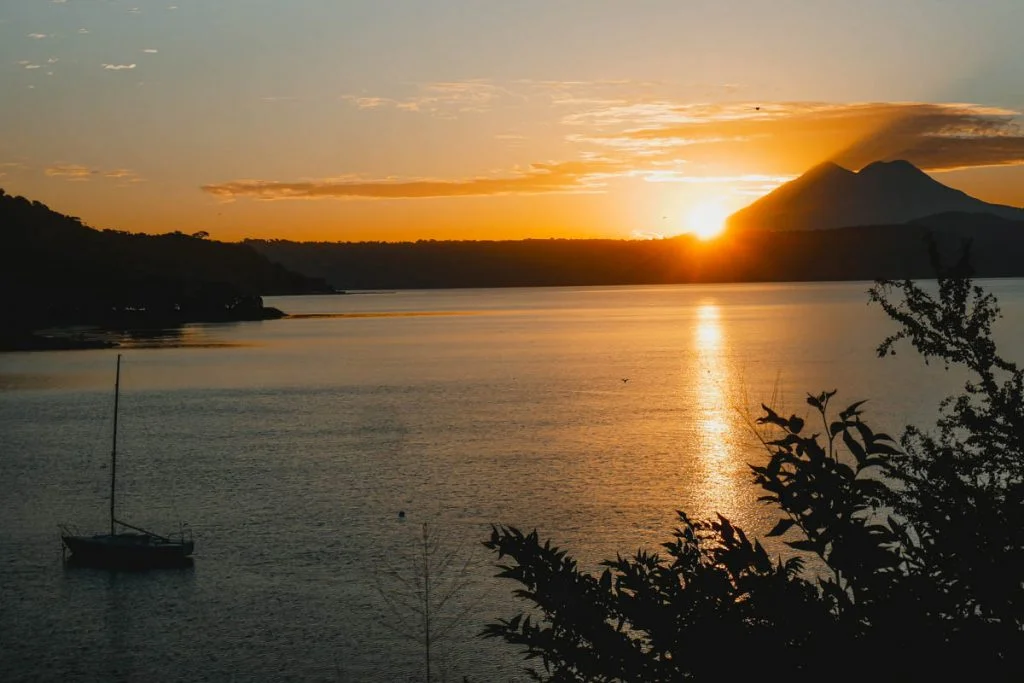 Lake Ilopango Facts
Lake Ilopango is 72 square kilometers, and 248 meters deep. It is so big that if you take a boat trip around it you can visit the San Salvador, Cuscatlan, and La Paz departments of El Salvador.
Before the Ilopango caldera was formed, the volcano that stood in its place was called "XILOTEPEC". When the volcano erupted it emptied a huge magma chamber below it, and then the fractured rock above the magma chamber collapsed to produce the massive crater that makes the Ilopango caldera (crater lake).
The massive volcanic eruptions that created Ilopango lake are considered by historians to be one of the most horrific natural catastrophes in the world.
The first gigantic eruption that made the lake occurred between 410 and 535 AD, and was of such a magnitude that it devastated early Mayan cities in the area. Historians estimate it instantly killed over 100,000 people and displaced up to 400,000 more, as well as leaving volcanic ash in the skies that kept it cloudy for 18 months.
Later volcanic activity in 1879-80 resulted in the formation of several lava domes within the lake-filled caldera as well as near its shoreline. The summit of the main lava dome formed small islets known as 'Islas Quemadas'.
XILOTEPEC volcano is still active below the lake! You can tell this by standing in the water – you will sometimes notice air bubbles coming up to the surface. A report published in 2016 found evidence that a magna pool is building up below the lake, but it's not thought to be in danger of erupting any time soon.
Things To Do At Lake Ilopango
Apulo Tourist Centre
Good news! Lake Ilopango has a 'turicentro' which is a recreation park run by the government of El Salvador.
The Apulo tourist center is a good first place to stop to get yourself orientated. Be aware that Apulo visitor center is a popular destination, especially on the weekends and national holidays, so if you don't like crowds, avoid visiting on the weekend.
The facilities at Apulo include 34 cabins, a picnic area, a soccer field, changing rooms, restaurants, and a swimming pool.
Boat Tours
The most popular spot to catch a boat is near the Apulo tourist park but boat tours are available from many different points along the shore.
On a boat ride, you can discover the lakes' beautiful islands full of vegetation, Isla Los Patos, Isla del Amor and Isla Los Quemados (renamed Isla San Cristóbal). You can also see up close the burnt Islets located in the middle of the lake as well as the flora and fauna that surround the crater lake.
Water Based Activities
Other activities you can enjoy in the area are jet skiing, diving, kayaking, paddle boarding, sailing, windsurfing as well as fishing for mojarras, guapotes, and juilines.
Scuba Diving
Scuba diving is an excellent option at this caldera lake although there is no diving school so you'll need to make prior diving arrangements.
Ilopango has warm water and two good dive spots – Los Flumeroles and the Statue Of Christ the Redeemer.
Diving at Los Flumeroles, you'll get to feel the warm water rising from the active volcano and see the sulfur deposits around the cracks in the lake bed.
The Statue Of Christ The Redeemer dive is near Isla San Cristobal. Divers can see a submerged figure of Christ the Redeemer that looks just like the one in Brazil.
Surrounding Attractions
If you take a drive around the lake you'll discover several different panoramic viewpoints located around the lake.
You'll also find many well-placed restaurants that let you enjoy the view while enjoying a meal or drink.
Nature Parks
If you like nature and great views, you can take a walk in the eco park Santa Cruz la Vega. You can walk to the shores of the lake as well as go hiking, horseback riding, and camping.
One option that may be available when you arrive at the park is to walk down from high elevation to the shores of Ilopango lake from Cafe Santa Cruz and then get picked up at the bottom and taken back to your car. Ask when you arrive.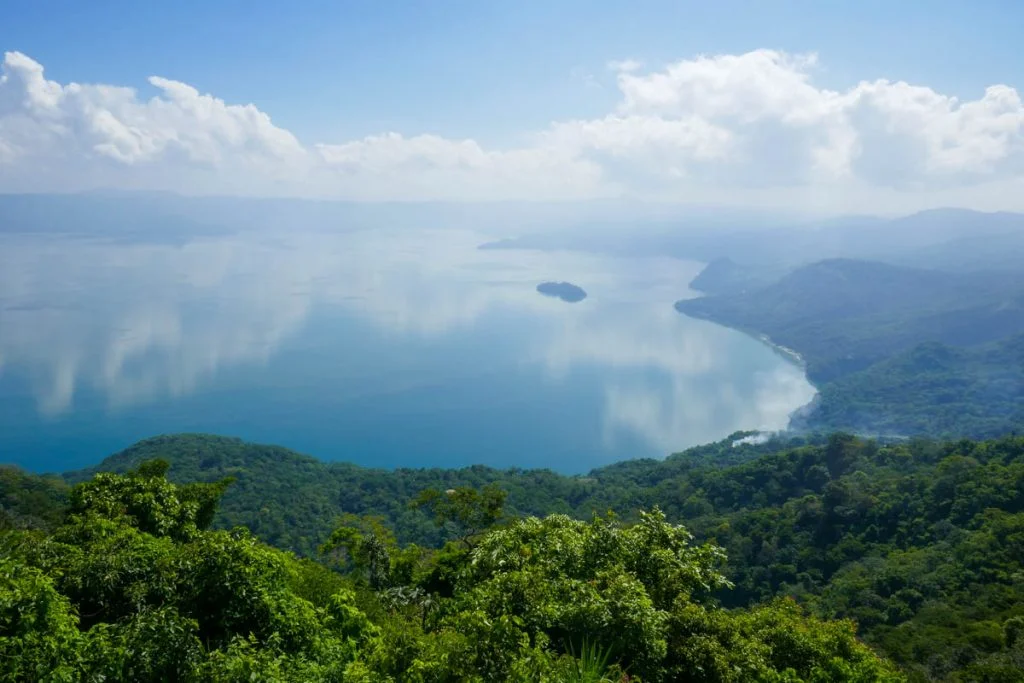 Ilopango Aviation Museum
The aviation museum is at the old international airport and is easy to add to a trip to the lake. If you come to the lake from San Salvador you'll pass in on your right. With a plane outside, it's hard to miss. It's about 8 kilometers from Ilopango lake's main tourist center.
Day Trip Or Overnight?
One of the attractions of Lake Ilopango is its closeness to the capital, which means it's easy to come and go.
There's no question it's a place that rewards exploration and a couple of days could easily be spent here. One to enjoy the lake itself. Another to enjoy the surrounding area looking down on the lake from up high.
How To Get To Ilopango Lake
From San Salvador
By Car
Ilopango lake is easy to get to by car. It's about a 30-50 minutes drive from San Salvador the capital city depending on your starting point.
To find the best route download WAZE onto your phone and plug in your destination.
By Bus
Buses leave from Terminal de Oriente. Take bus route number 15 or put Ilopango into this website horariodebuses.com for other options.