There are 12 lakes and lagoons in El Salvador and anyone visiting the country should visit at least one. Lago de Coatepeque, which means "Snake Mountain Lake" is one of the best, and it is located 18 km south of Santa Ana city.
Why Visit Coatepeque Lake (Lago De Coatepeque)?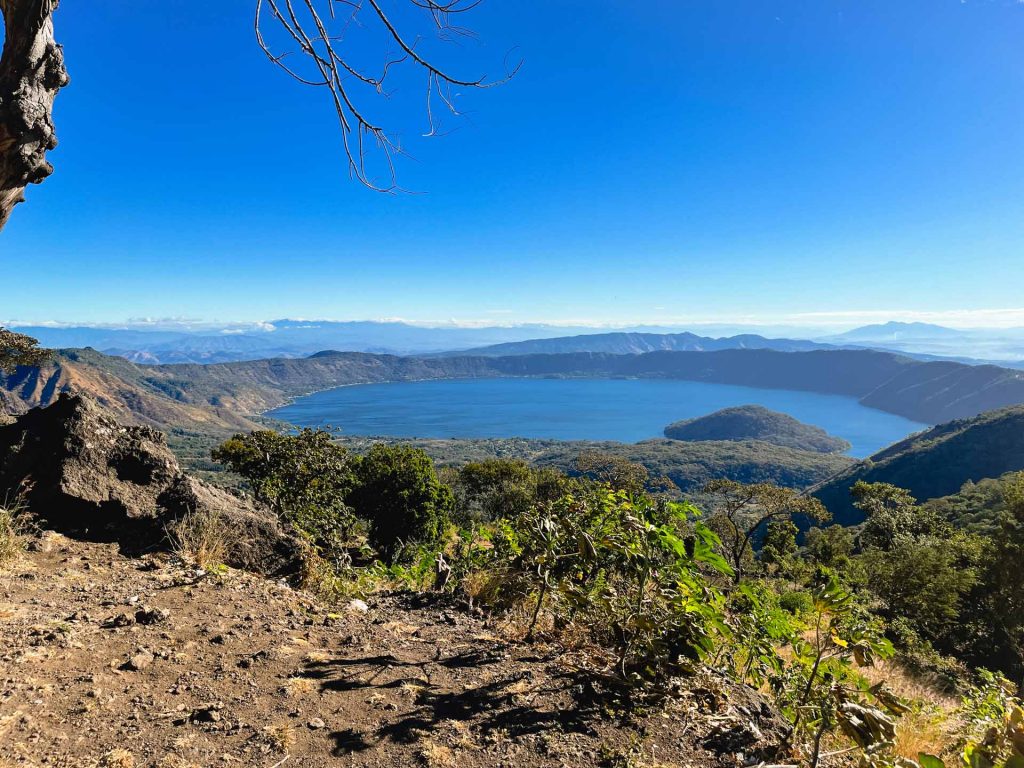 Coatepeque lake is a spectacular pristine volcanic lake where the ancient Mayans used to swim.
It rivals famous lakes such as Lake Atitlan in Guatemala, and offers stunning views, nature, tranquility, a variety of activities, as well as a great choice of restaurants and places to stay!
Lake Coatepeque came second in the 'eighth wonder of the world' competition in 2013.
Visitors rate their experience as 4.8 out of 5 on Google reviews and 4.5 on Trip Advisor.
The lake is easy to get to – about 20 minutes drive from Santa Ana and about an hour and a half drive from San Salvador (both are longer by bus).
Lake Coatepeque is famous for its water changing color to a vibrant turquoise blue for a short period every year.
Coatepeque Lake Facts:
Lake Coatepeque is a caldera lake that was created by the former collapse of a giant volcano that then fills with rain water.
The Lago De Coatepeque caldera was formed by a gigantic explosive eruption that happened between 57,000-72,000 BC, but the formation of the most current dome began much later around 8000 BC.
When viewed from above the lake is almost perfectly round.
The Lake sites at an altitude of 745 meters above sea level and the crater has a surface area of 25.3 km² and is 115m deep.
There are more than 20,000 people who live in the lake basin, plus an average of 5,000 monthly tourists visiting the lake.
The lake is part of the picture postcard views to be seen from the top of Santa Ana volcano.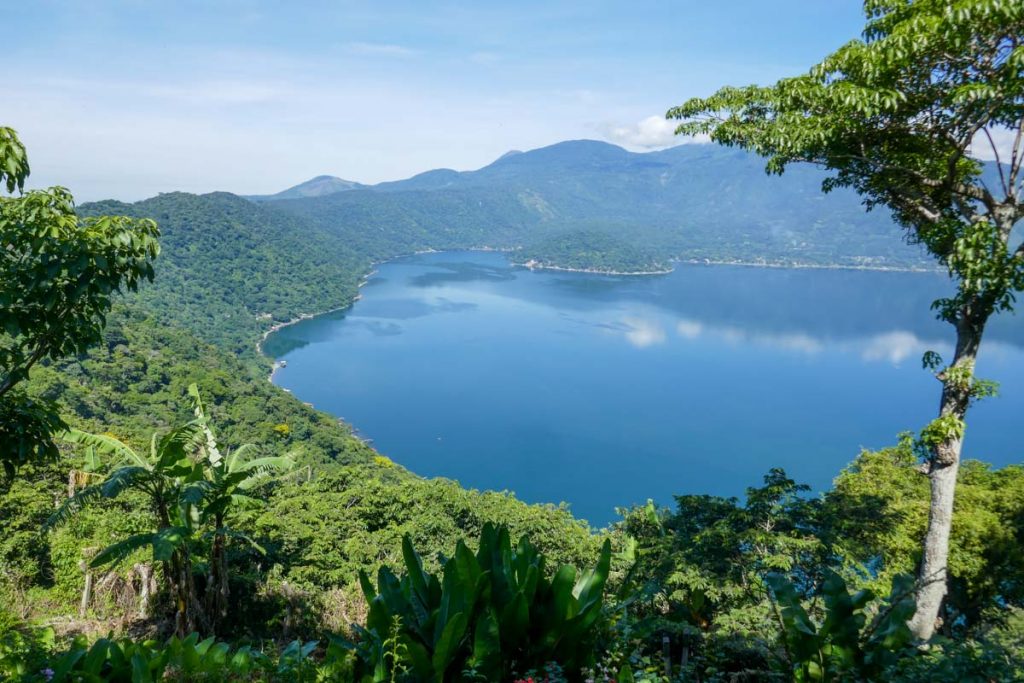 Things To Do At Lago De Coatepeque
Typically you will find Salvadorans enjoying the lake either relaxing, eating at one of the many restaurants, fishing for fresh fish, swimming, taking boat tours, jet skiing, or kayaking. Diving, sailing, hiking, and mountain biking are also possible but may need prior organization.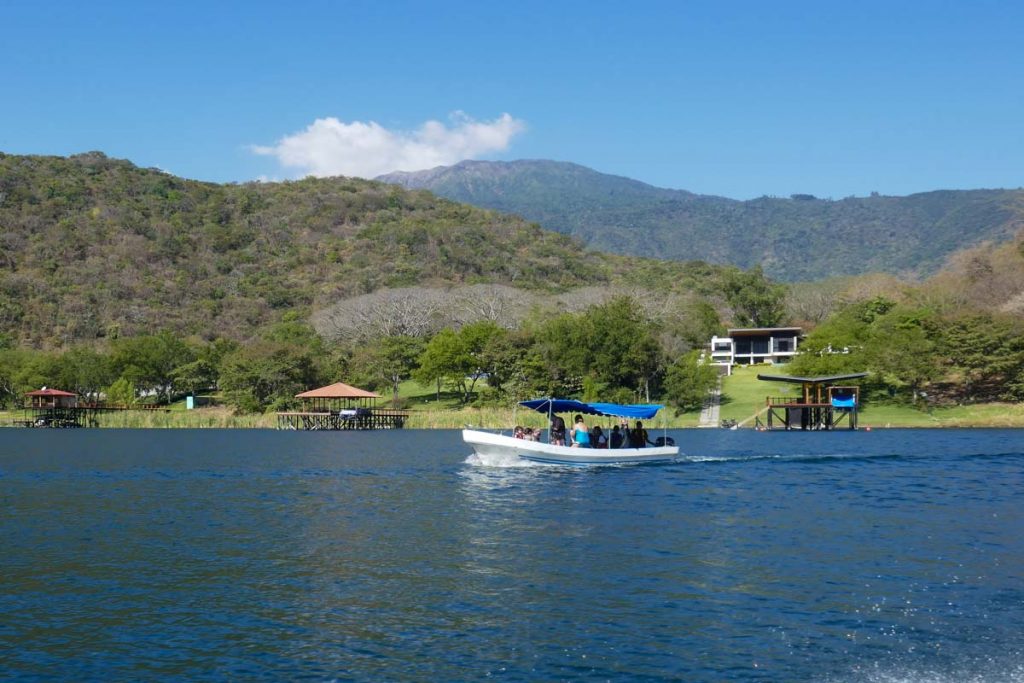 Out by the exclusive island known as "Teopan" or "Isla del Cerro" (Mountain Island), there are some cool water springs close to shore which make the water surprisingly chilly. There are also some hot springs at the main lake where the water is too hot!
Most of the houses on the lake have Mueles (covered docks over the water) where people relax and soak up the spectacular views.
Get yourself in the right spot and the lake can be a great place to take in sunsets or sunrise.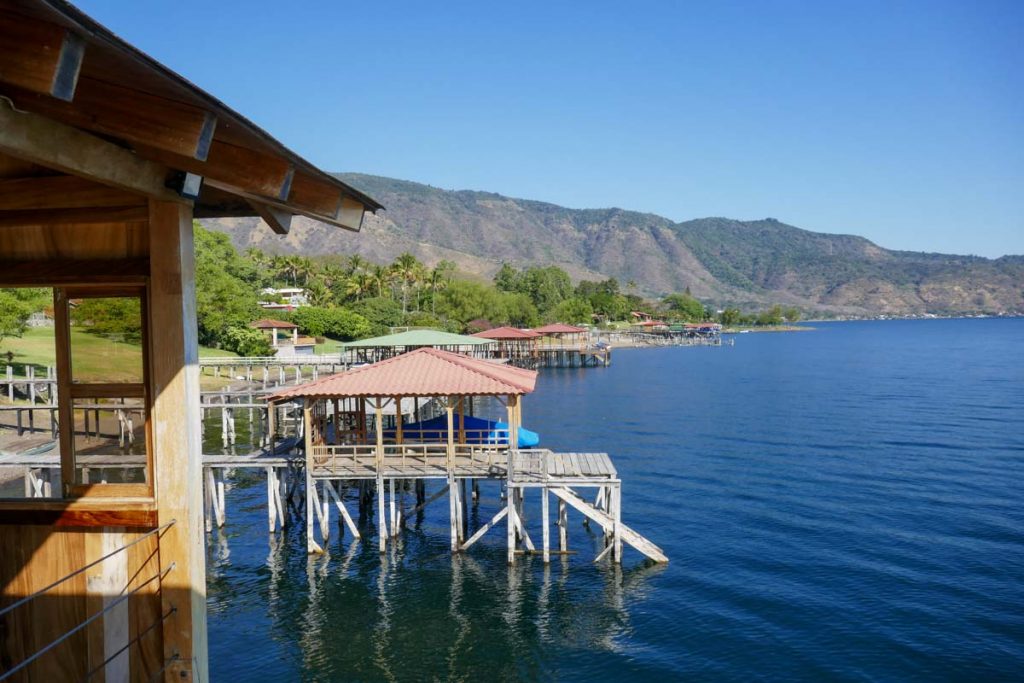 Visiting Lago De Coatepeque
Visiting Lake Coatepeque you'll be surprised by the dramatic beauty of the sparkling blue caldera as you approach via a turn-off from the Carretera Panamericana.
You'll notice many cars slowing down as the lake vista comes into view and there is a lookout as well as lots of places to eat and enjoy the view on the road that descends into the lake basin.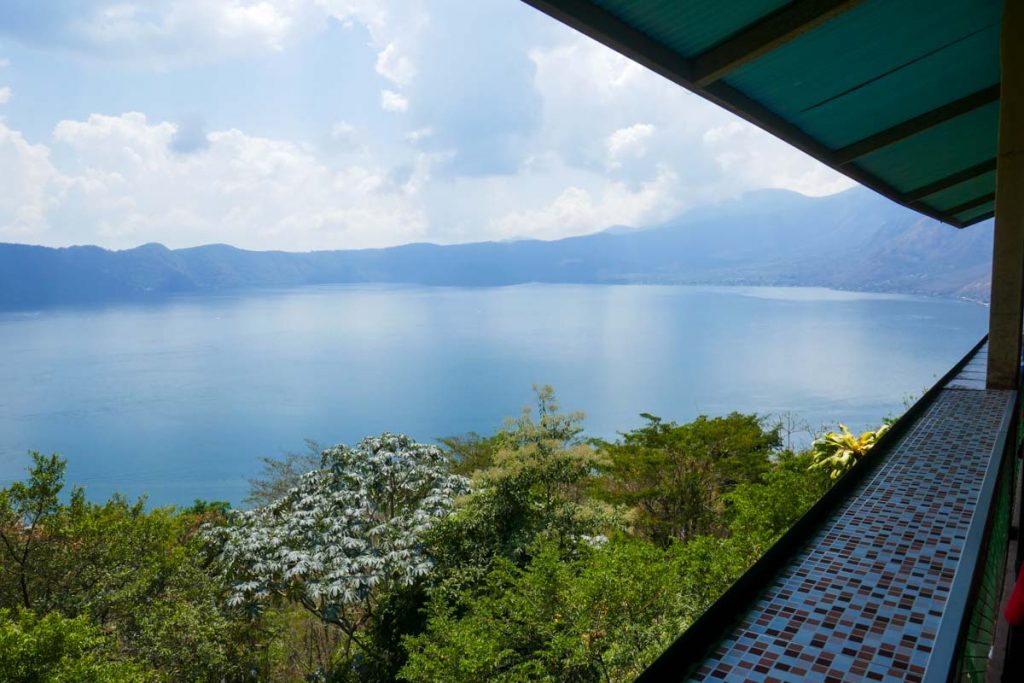 Access to the lakefront is quite difficult without paying a fee. This is because most of the 400 lakefront properties are privately owned.
However, there are more than 35 restaurants where you can try traditional El Salvadorian food, as well as many great hotels and holiday rentals to stay at in the area that have lake access and offer day passes. A little advance research will help you find a good spot.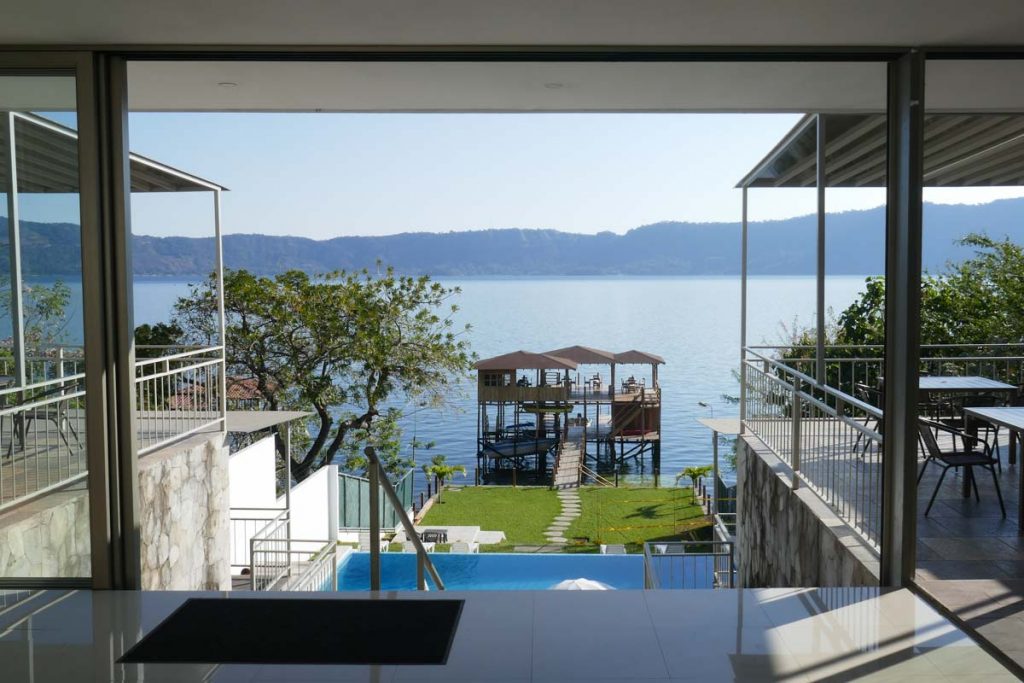 But if you just want to visit the lake there is a 500m stretch that has public access with both budget and high-end restaurants as well as activity rentals. Finding this area is not obvious. Key to finding it is turning left at the bottom of the hill down to the lake and following the road along until you come across an open area without walls.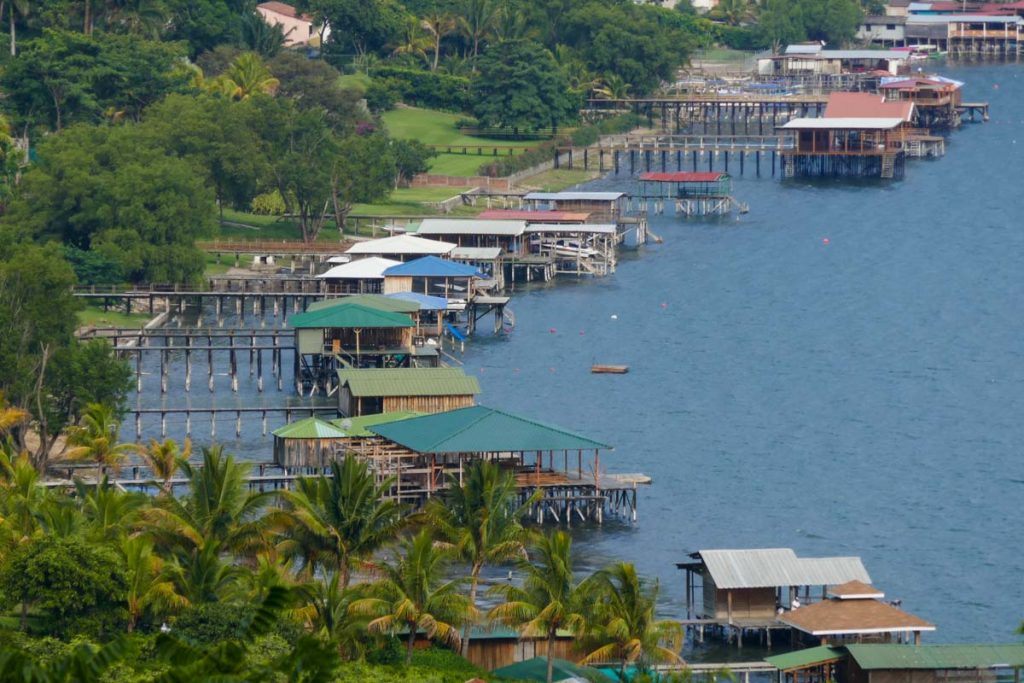 Day Trip Or Overnight?
Probably the best way to enjoy Coatapeque lake is to combine it with a trip to the volcano complex of Cerro Verde National Park that spans two or three days.
Climb Santa Ana or Izalco volcanoes which are other highlights of a trip to El Salvador and then head down to the lake and enjoy a well-earned day or two relaxing by the lake.
It's possible to visit the lake as part of a day tour from Santa Ana or San Salvador but a longer tour is best to do this area justice.
How To Get To Lago De Coatepeque
By Car
The lake is easy to get to by car. It's about an hour's drive from Santa Ana and about two and a half hours drive from San Salvador.
To find the best route download WAZE onto your phone and plug in your destination.
By Bus
You can definitely get to Coatepeque lake from San Salvador and Santa Ana so head to one of these two places first.
Centrocoasting has useful information on getting around El Salvador on the bus. It's regularly updated and it is a good place to check for bus schedules to Lake Coatepeque and other places.
From San Salvador
Allow two and a half to three hours of travel time.
To get to Lake Coatepeque from San Salvador take the 201 bus from Terminal Occidente bus station. Say you want to get off at El Congo air-conditioned minibus. The journey should cost approximately $1 USD.
Once at El Congo the next bus to take is the 242 bus to Lago de Coatepeque. The bus drives all the way down and around the lake so say where you're staying and they will usually drop you at the right spot.
From Santa Ana
Allow one hour to an hour and a half travel time.
It's easy to get to Lago De Coatepeque from Santa Ana. Take either the 220 bus or the 248 bus. Both buses follow the same route to the lake's edge just in a different direction. Once at the bottom of the hill going down into the lake, the 220 goes left (east) and the 248 goes right (west).